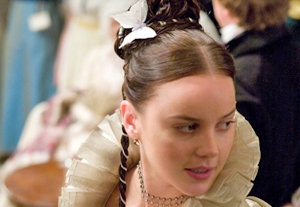 "Pillow'd upon my fair love's ripening breast,

To feel for ever its soft fall and swell,

Awake for ever in a sweet unrest,

Still, still to hear her tender-taken breath,

And so live ever—or else swoon to death."
Poetry: one of the unique albeit unorthodox tools that award-winning casting director Nina Gold used to cast writer-director Jane Campion's homage to 19th-century poetic love cut short, "Bright Star."
Named for a poem originally thought to be British poet John Keats' last, "Bright Star" depicts the tragically brief and heartbreaking love affair between the penniless poet and the beautiful Fanny Brawne, the daughter of a Hampstead widow who is principally obsessed with marrying Fanny off to the right man of the right social status. "The really different casting thing that we had everyone do," says Gold, "was to read a poem. All these actors that were so accomplished, it made them all so incredibly nervous. And it was wonderful; it was so revealing."
As the brooding Keats, Ben Whishaw was the first choice from the get-go, at least for Gold. "I just thought, from the very first second, Ben and Jane would be a match made in heaven," she shares. "We were looking for someone who we felt had the soul of a poet. And Ben just vibrates with this whole unique inner energy. He's just a genius." Named "Most Promising Newcomer" at the 2001 British Independent Film Awards, Whishaw garnered critical praise for his performance as Sebastian Flyte in 2008's "Brideshead Revisited" and as the scent-making killer Jean-Baptiste Grenouille in the 2006 thriller "Perfume: The Story of a Murderer."
For the role of Keats' beloved Fanny, Gold says, "We had a bigger purpose; we saw more people. Because it is a film called 'Bright Star' and it really is about her, we felt this character on the page, this kind of droppy little madam, was quite a selfish little girl. We definitely wanted to have this 'me-me-me-ish' sort of thing going on. And it's unusual for someone to want to play that sort of character."
Gold and Campion held casting sessions in the U.K. and the U.S. for the role of Fanny, meeting with "lots of people," says Gold. Campion eventually went to Australia and met with Abbie Cornish. "She was fantastic, just brilliant," the CD says. Cornish's previous film credits include "Stop-Loss" and "Elizabeth: The Golden Age." She also appeared alongside Heath Ledger in the 2006 Australian film "Candy," about yet another poet and his love for a woman played by Cornish, and their shared love of heroin.
Gold cast Paul Schneider in the supporting role of Charles Armitage Brown, Keats' ever-present friend and benefactor and an absolute cad. "We were really having trouble finding someone right," Gold admits. "We met loads of really good people, but they never exactly had the quality that we wanted—this sort of blundering energy." While serving as a juror at the 2007 Venice Film Festival, Campion happened to catch Schneider in "The Assassination of Jesse James by the Coward Robert Ford." Schneider sent a tape to Gold and Campion, and they agreed that his mix of self-righteous pomposity and predatory clumsiness fit what they were searching for.
The elegant, sometimes amusing, thoroughly engaging result onscreen is a solid testimonial to the strength and success of Campion and Gold's working relationship. "Jane really, really, really loves actors," Gold notes. "She's incredibly collaborative. I don't know if it's because she's a woman or because she's such a fabulous person. There's just a lot less ego going on with her, really."
Which makes "Bright Star" an emotionally sumptuous, visually delicious piece of a love-gone-wrong film indeed.
Casting Director: Nina Gold
Writer-Director: Jane Campion
Starring: Ben Whishaw, Abbie Cornish, Paul Schneider, Kerry Fox, Edie Martin, Thomas Sangster
The Pitch: The brief and tragic love affair between poet John Keats (Whishaw) and Fanny Brawne (Cornish).