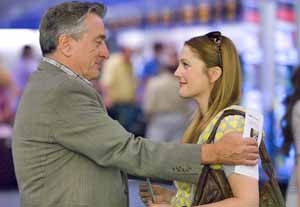 Kerry Barden and Paul Schnee are used to challenging casting projects—especially when indie film budgets are falling as fast as the economy and getting the green light for a project becomes more and more difficult. But when the casting directors behind such films as last year's indie hit "The Visitor" received Kirk Jones' script of "Everybody's Fine," they jumped in feet first. Jones, the writer-director of "Waking Ned Devine," had penned the remake of Giuseppe Tornatore's 1990 original, which starred Marcello Mastroianni as a lonely widower.
With no actors attached and no deal in place, Jones' producer Glynis Murray sent Barden/Schnee Casting the script with a first task: "Get it to De Niro." Jones felt the actor was perfect for father-of-four Frank. Says Barden, "They weren't going to be able to get it set up without somebody of De Niro's caliber. And that was who Kirk decided he wanted for the film."
Barden sent the script to Jane Rosenthal, De Niro's producing partner. "She read it, and then De Niro read it, and they said, 'Let's set up a reading.' So we did." Barden and Schnee called around town and put together a group of actors to read the script along with De Niro. A year later, with De Niro attached, it was set up at Miramax.
Drew Barrymore and Kate Beckinsale were tapped for Frank's daughters. Then began the long process of finding the right person for the role of Robert, Frank's son. "That was the one we read a lot of people for," says Barden. "It was such a great opportunity to work with De Niro, obviously, and it was one of those roles that every man in that age range wanted to be a part of. [Actors were] limited only by having to be De Niro's kid, so he had to be somewhat in the same gene pool." De Niro read with some of the actors. Barden says Jones was very meticulous and saw a lot of people for every role. "Every role that we were casting had a scene with Robert De Niro, so it was really great; nobody was passing," notes Barden. "I was in a position of being able to take my pick of actors, which was nice." The role went to Sam Rockwell.
The biggest challenge for Barden was finding the younger versions of the adult cast, who appear in flashbacks and a fantasy sequence. Because Frank speaks to them as their adult counterparts in the dream sequence, the young kids had to read adult dialogue. "It was an interesting process," Barden admits. "We had to mix and match them to make sure they had that kind of sibling relationship with each other." A resemblance to their elder counterpart was obviously required, which helped Beckinsale's real-life daughter, Lily Mo Sheen, land the role of Beckinsale's character's younger self.
Helping fill out the cast were two unique discoveries for Barden. Brothers Ben and Harvey Schwartzman, ages 89 and 94, are furriers who have an office next door to Barden's office. "Kirk had seen Ben in the hallways," recounts Barden, "He said, 'I want to meet this man and see if he'd be interested in doing the film.' " Jones interviewed the two brothers and fell in love with their life stories. He decided to include them in the road-trip part of the film in which De Niro meets different people. "The scene is in a diner where [Frank] is waiting for a bus or train or something," Barden reveals. "Their story was incorporated into the script because it's a beautiful story."
Barden's casting philosophy is simple: "What I'm looking for in auditions is someone to breathe life into a role, whether it's a one-line role or a lead role. It may sound corny, but [actors should] make it their own, because at a certain level everyone can come and read the lines in a script. You have to break it down and figure out what the scene is about and why it's going to be in the movie. Otherwise, it'll get cut if there's no reason for it to be there. Figure out what about you and that character is interesting and moves the story along."
Casting Director: Kerry Barden and Paul Schnee
Writer-Director: Kirk Jones
Starring: Robert De Niro, Sam Rockwell, Kate Beckinsale, Drew Barrymore
The Pitch: A widower (De Niro) travels cross-country to reconnect with his grown children.