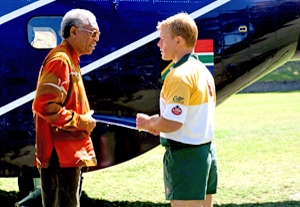 A December without a Clint Eastwood drama would be like a January without 5 pounds of holiday blubber insulating your midsection. Beginning with 2003's "Mystic River," six consecutive Eastwood-helmed movies have yielded at least one Golden Globe or Oscar nomination. Eastwood's greatest success has come at a stage in his career when most filmmakers find acclamation only in lifetime-achievement awards. His films consistently strike a balance between critical and commercial success that awards voters salivate over, and this December's entry should prove no exception.
"Invictus" is based on the true story of Nelson Mandela and the 1995 South African rugby World Cup team—and the unlikely but vital role that each would play in the other's success. To cast the film, shot in South Africa, Eastwood tapped London-based casting director Fiona Weir, whose credits include several "Harry Potter" movies, as well as Brit-centric hits such as "Love Actually" and "Elizabeth: The Golden Age."
The helmer and the CD didn't know each other but had a connection: Weir's mentor, Mary Selway, had cast Eastwood's 1990 film "White Hunter Black Heart." Selway died in 2004. "She taught me an awful lot about casting," Weir says. "I think the fact that I had worked so closely with Mary and Mary was someone that Clint had liked working with enormously played a factor in it."
Weir joined the project with two huge pieces already in place. Matt Damon would play rugby captain Francois Pienaar, and Morgan Freeman—a producer on the film, who had shepherded the project for years—would play Mandela. ("Who else in the world could play Nelson Mandela?" Weir asks.) That left only the tough decisions to be made.
"After Matt and Morgan, Clint just wanted to cast as truthfully and as authentically as possible," Weir says. She and Eastwood were initially "very well disposed to" fill the cast out with American actors. "But the more we talked about it, the more it felt appropriate that, for such a story, wherever possible, it would be best to cast authentically," she says. "And for South Africa, there's a very particular world and a very particular accent, and obviously all the actors from South Africa have a very particular life experience."
Eastwood and Weir decided to draw on that life experience, sending Weir to Johannesburg and Cape Town to meet with potential cast members—although casting sessions were also held in Los Angeles and London. The South African auditions attracted actors from across the country and across the experience spectrum. Among her most pleasant discoveries, the CD mentions Tony Kgoroge, an actor well-known in South Africa who has yet to receive international recognition, and relative newcomers Patrick Mofokeng and Marguerite Wheatley, each of whom had done few films prior to "Invictus." "It was a real opportunity to find people who don't get to do a great deal of film work and a great deal of international film work, and to extend the opportunity to work with a man like Clint," Weir says.
And what of her own experience working with a man like Clint? "Fantastic," Weir says, pointing to Eastwood's long career in front of the camera as something that informs his approach to decisions made behind it. "There's always a great pressure these days to cast well-known people very often, and he's a director who isn't concerned about that sort of thing at all. He just loves looking at an actor for what they bring to the part."
If there is any pitfall to casting with Eastwood, Weir says, it's that he sympathizes too much, looking at every actor and focusing on the positives he or she could bring to a role. It's a deliberative process, but don't get the impression that Eastwood is gun-shy. "He is very, very decisive," Weir says. "But he takes his time thinking very carefully about it before he, as he says, 'pulls the trigger.' "
Pulls the trigger? Isn't that a disconcerting phrase to hear coming out of Clint Eastwood's mouth. "Actually," Weir says, "it's very reassuring."
Casting Director: Fiona Weir
Director: Clint Eastwood
Writer: Anthony Peckham, based on the book "Playing the Enemy: Nelson Mandela and the Game That Made a Nation" by John Carlin
Starring: Matt Damon, Morgan Freeman, Scott Eastwood, Langley Kirkwood, Tony Kgoroge
The pitch: Nelson Mandela (Freeman) takes office as South Africa's first post-apartheid president and turns to Francois Pienaar (Damon), captain of the national rugby team, to help him unite the country.