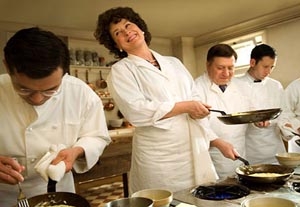 Nora Ephron had already signed on to write and direct the movie that combined the story of Julia Child's start in the cooking profession with the emotional journey of blogger Julie Powell, when she ran into Meryl Streep at a Shakespeare in the Park performance. Ephron told Streep what she was working on, and Streep offered her best Julia Child impression: "Bon appétit!" Ephron knew her search was over.
After reading the script, Streep called Ephron. "I thought it was absolutely beautiful," Streep recalls. "It made me cry, the idea that what you put in front of your family, that love, those connections between people, are the real important things."
"Both stories were going to be about marriage and food, two things that go together in most people's lives," says Ephron. "When you're in the romantic comedy business, the movie ends when people say, 'Will you marry me?' It's very rare to find something about what happens next, where you've got two equally smart people in a relationship who adore each other. It's one of the reasons I think Meryl was completely drawn to the movie."
Streep did not want her portrayal of Julia Child to be a caricature. Because Child was 6-foot-2 and had a distinctive melodious voice and a larger-than-life personality, it would have been easy to go over the top, but Streep found a way to make her real. "My out is that I'm not really 'doing' Julia Child; I'm Julie Powell's idea of who she was," says Streep. "So while I felt a responsibility to her memory and the legacy of the great work she did, and to the essence of her character, I didn't feel I was replicating her."
After Streep signed on, she suggested that her "The Devil Wears Prada" co-star Stanley Tucci play the part of Julia's loving husband, Paul Child. Streep knew Tucci would be able to help bring the story of a strong marriage to life. "Stanley brings this indescribable thing, which is the substance of a man: his gravitas, his love, his three-dimensional despair when he was called back to Washington, humiliated," says Streep. "That's all invaluable to our film because their marriage is a marriage of equals, and you feel the mutual regard that isn't just romantic love but also respect."
Ephron brought in veteran casting director Francine Maisler to cast the rest of the film. Maisler had experience choosing actors to play real people, having already cast "Milk" and "The People vs. Larry Flynt." In casting the second female lead, Maisler and Ephron say they felt Amy Adams could bring Powell's journey to life onscreen. "Among the many things I liked about her was that I believed that she was smart enough to be a writer," says Ephron. "And she's funny."
In casting Julie's hungry and supportive husband, Eric Powell, the producers loved Chris Messina's charm and his chemistry with Adams, but another quality made him stand out among the actors under consideration. "Chris somehow rather deftly manages to bring a distinct New York sensibility to this couple," says producer Laurence Mark. "He's also so wonderfully appealing that it's easy to see why Julie is smitten with him and energized by him."
Adams jokes that she has a different opinion as to why Messina may have been cast. "Mr. Messina is a brilliant eater," she says. "I don't know how he does it. He eats like a man, yet he doesn't make it look grotesque. It's a talent."
After the leads and their respective husbands had been cast, Maisler began filling the supporting roles. Jane Lynch was cast as Julia's even taller sister, Dorothy McWilliams, and Mary Lynn Rajskub was picked to play Powell's best friend. Lynch says she never thought she'd get to work with her idol Streep, but the comedic actor was brought on for her ability to make the silly, giddy, giggly chemistry the two loving sisters had for each other come to life. Rajskub gave her character a down-to-earth feel, which worked well against Adams' perky and nervous Julie. Says Rajskub, "When I read the script I was very excited because it's very women-centric, about food, relationships and emotional troubles, which are a lot of my favorite things."
Casting a film is a lot like baking. One small misstep and the results can be disastrous. Thankfully, "Julie & Julia" combined the right actors to yield a sweet recipe for excellence.
Casting Director: Francine Maisler
Director: Nora Ephron
Wrtier: Nora Ephron, based on memoirs by Julie Powell and Julia Child
Starring: Meryl Streep, Amy Adams, Stanley Tucci, Chris Messina
The Pitch: When blogger Julie (Adams) sets out to cook all the recipes in Julia Child's book, she learns about both herself and the famous chef (Streep).