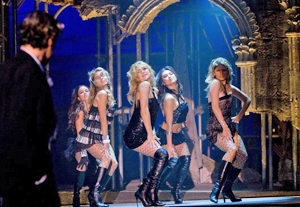 Veteran casting director Francine Maisler, whose diverse credits range from "Milk" to "Meet the Fockers," was pleased to work once again with director Rob Marshall on the film adaptation of the Broadway musical "Nine." Maisler, who notes she's backed by a great and supportive team on all her projects, previously collaborated with Marshall on "Memoirs of a Geisha" in 2006. Of the projects with Marshall, she says, "Rob created an enjoyable experience for every person who came in, and made them feel comfortable and respected." She also was very excited to take on a musical, noting, "I've never cast a musical before, but I grew up in New York surrounded by musical theater. So this was a dream for me."
Marshall won widespread acclaim and an Oscar nomination for his film-directing debut, the musical "Chicago" (2002), a property that had been in various phases of development hell since the groundbreaking John Kander–Fred Ebb–Bob Fosse stage show premiered on Broadway in 1975. In the process, Marshall shepherded the first musical to win the Academy's best picture honor since "Oliver!" in 1968, sparking renewed interest in the then-dormant film musical form, paving the way for such subsequent blockbuster successes as "Dreamgirls," "Hairspray," and "Mamma Mia!." A grade-A cast, including several Oscar winners of recent years and legendary Italian star Sophia Loren, as well as noted behind-the-scenes talent, were enlisted to meet the challenge.
Says co-producer Harvey Weinstein, " 'Nine' is a timeless masterpiece, and nobody can stage sexier or more dynamic numbers than Rob Marshall. Teaming up with him and the tremendous cast he's put together is something we've never experienced before. I can't think of a better filmmaker to bring this story to the screen." Co-producer on the Weinstein Co. release is Marc Platt, producer of the international mega-hit musical "Wicked," who adds, "The film version of 'Nine' is such a complete reinvention. It's wholly unique to the vision of Rob and Anthony Minghella, who wrote the screenplay along with Michael Tolkin. It became its own journey creatively. While it's true in essence to the Broadway musical, the movie has become very much its own thing."
The hit 1982 stage version won five Tony awards including best musical during its premiere run, plus two additional Tonys, including best revival, for the 2003 staging, imported from London's Donmar Warehouse. The sexy and edgy show (book by Arthur Kopit and Mario Fratti, score by Maury Yeston) was adapted from Italian filmmaker Federico Fellini's autobiographical film "8-1/2." Set in Rome in 1963, the story focuses on famous film director Guido Contini (Daniel Day-Lewis), who's about to start work on his latest production, "Italia," but has no script. He scurries around for an idea, to little avail. Midlife crisis and a series of romantic entanglements complicate matters. Ultimately, fantasy and reality intertwine. Among the primary characters are Contini's wife (Marion Cotillard), his mistress Carla (Penélope Cruz), his muse Claudia (Nicole Kidman), his costume designer (Judi Dench), a flirtatious journalist (Kate Hudson), and his longtime producer Dante (Rick Tognazzi).
This is among the most star-studded casts ever assembled for a screen musical. According to Maisler, "Many great actresses were considered. We could have made five movies with five completely different casts. No one was cast when I came on board. Rob called me about the project, and I flew to New York and went right to Lincoln Center to watch the original again."
Maisler is delighted to have found performers who could handle the demands of the material. She explains, "We needed great actors who could sing and dance. I was surprised by how many great actresses were also amazing singers and dancers. We had an embarrassment of riches to choose from. When Rob sent me the trailer, I was honored to have been a part of it."
Casting Director: Francine Maisler
Director: Rob Marshall
Writers: Anthony Minghella and Michael Tolkin
Starring: Daniel Day-Lewis, Penélope Cruz, Marion Cotillard, Nicole Kidman, Judi Dench, Sophia Loren, Kate Hudson, Stacy Ferguson, Rick Tognazzi
The Pitch: A film musical, adapted from the Broadway Tony winner, about a selfish film director (Day-Lewis) and the women in his life.