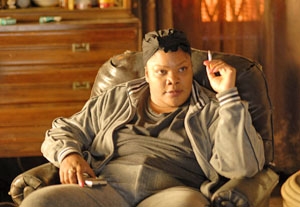 For casting director Billy Hopkins, the central challenge of director Lee Daniels' "Precious: Based on the Novel Push by Sapphire" was obvious and immediate. The main character, Claireece "Precious" Jones, is a 300-pound African-American teenager—not exactly a common Hollywood type. "My associate Jessica Kelly, she and I said, 'Okay, we're probably going to have to find a real person,' " he recalls. This person also needed to be able to withstand an emotionally grueling shoot: After being impregnated by her absentee father, the character is subjected to endless abuse from her toxic mother (Mo'Nique) and mercilessly teased by cruel classmates.
Hopkins and Kelly did a massive search, setting up open calls in New York and Los Angeles. They viewed countless tapes from all over the country. They even put together a summer "boot camp" of 10 promising contenders, none of whom ultimately satisfied the casting needs. "It was almost Labor Day," recalls Hopkins. "And the movie was supposed to start shooting in October."
While scouring community-college drama programs in New York, the duo finally found Gabourey "Gabby" Sidibe, a psychology student with very little acting experience. "We taped her, and she was amazing and made us cry," recalls Hopkins. "Lee had said, 'You never ask these girls about their weight.' I said, 'Well, that's sort of a personal question.' But for some reason, I asked her: 'Does it bother you that people tease you about your weight?' And she said, 'No. I have an awesome personality.' And I actually think that's why she was so good in her audition. She does have this awesome personality, and she doesn't let anything bother her. As a result, she was so open."
For the role of Precious' demonic mother, Hopkins suggested comedian Mo'Nique, who had appeared in Daniels' directorial debut, "Shadowboxer." "Lee's concern was, Can she be mean enough to play this part?" recalls Hopkins. "My feeling about comedic actors is usually they're actually very good actors. When you do standup, you have to be fearless, so I always believe you can probably take on anything. I kept saying to Lee, 'She was a co-host on "The View" one day, and she got mad at something someone said that she disagreed with. She can be mean enough—trust me.' " Though other names were discussed, Mo'Nique always remained at the top of the list. And after winning a special prize at Sundance, her performance is now generating heavy awards buzz. "Lee took a leap of faith, and look how great it turned out," says Hopkins.
Hopkins knew the film needed a warm, gentle presence to play Precious' inspiring teacher, Ms. Rain. The casting director thought immediately of Paula Patton, whom he had cast in her first big film, "Idlewild," as well as the Denzel Washington vehicle "Déjà Vu." "Lee watched all of her stuff and met her and fell in love with her, and that was that," Hopkins says.
Another puzzle piece came in the form of downtrodden social worker Ms. Weiss, who plays a crucial part in Precious' transformation. The part originally went to Helen Mirren, who had worked with Daniels on "Shadowboxer." But Mirren had to drop out due to scheduling conflicts, and the role ended up with a somewhat unlikely candidate: glamorous pop star Mariah Carey, who is virtually unrecognizable in the glitz-free role. The actor had previously played a lead in the indie "Tennessee," which Daniels produced. "She said, 'I really love this part and I want to do it,' " says Hopkins. "Lee said, 'Well, you know, you can't be attractive in this part.' Lee pushed her to the brink, and look at the performance he got out of her."
"The View" co-host Sherri Shepherd and musician Lenny Kravitz, a good friend of Daniels', rounded out the cast in supporting roles. The final challenge for Hopkins was putting together the motley group of classmates Precious meets when she transfers to an alternative high school. Hopkins says most of the actors he auditioned and cast had hardly any credits. "Some we found on the street; some were actors that had no credits at all," he explains. "We wanted them to be as real as Gabby was, so we on purpose tried to find real people so that there was a mix."
Casting Directors: Billy Hopkins and Jessica Kelly
Director: Lee Daniels
Writer: Geoffrey Fletcher, based on "Push: A Novel by Sapphire"
Starring: Gabourey "Gabby" Sidibe, Mo'Nique, Paula Patton, Mariah Carey, Sherri Shepherd, Lenny Kravitz
The Pitch: A teenage girl (Sidibe), pregnant by her father for the second time, enrolls in an alternative school where she begins to change her life.