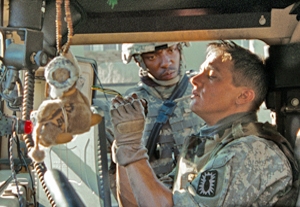 Chemistry was the key in concocting director Kathryn Bigelow's explosive thriller "The Hurt Locker," says casting director Mark Bennett. Mark Boal's story, built out of his experiences as an embedded journalist in Iraq, focuses on the last weeks of a three-man Army bomb-disposal squad's tour in Iraq, as Sgt. J.T. Sanborn (Anthony Mackie) and Spc. Owen Eldridge (Brian Geraghty) contend with the tactics of their impulsive new team leader, Staff Sgt. William James (Jeremy Renner).
"You always want to cast each actor with the rest of the cast in mind, but particularly with this, it was just the three of them onscreen so much that, strangely, it was kind of like casting a love story," notes Bennett. "If one of them had fallen out, it was possible that the other ones wouldn't make sense."
Renner was first on board. Bigelow "just recognized that he was perfect," says Bennett, adding that it was Renner's turn as serial killer Jeffrey Dahmer in "Dahmer" that convinced the director. "What she saw in that performance not only was that he was really good but also that he could make a character who behaves in an unlikable fashion sympathetic. And that was key to the character of James in 'Hurt Locker.' "
The CD says he and Bigelow "moved a lot of pieces around on the chessboard for a long time" and ultimately brought on Mackie ("Half Nelson"), whom Bennett "was aware of since back when he was a student at Juilliard," and Geraghty ("Bobby").
"Kathryn's intention specifically was to look for people with whom there wasn't a lot of baggage—like, there weren't a lot of preconceptions," says Bennett, adding, "One of the things that was so nice about putting these three guys into roles this meaty was that they were actors who've been doing great work for years in supporting parts but maybe hadn't gotten a lot of opportunities to be leads in their own films."
Location casting was done in Jordan by Lara Atalla. A-listers Guy Pearce and Ralph Fiennes appear in supporting roles along with character actor David Morse ("The Green Mile") and Evangeline Lilly ("Lost"), creating an unusual dynamic in which the leads are not the most recognizable actors in the film. "The effect of Ralph Fiennes popping up in the movie is so unexpected, but I think that was her intention," says Bennett. "That character is set up to be somebody that the audience expects to be somebody entirely different." He notes a similar reason for casting Pearce: "that idea of killing Janet Leigh in 'Psycho'—the most famous person onscreen you assume will be the lead of the movie."
It wasn't only actor chemistry that made the film work. Bennett, who was put in touch with Bigelow through talent manager Jon Rubinstein, says he, Bigelow, and Boal wound up being a great match. "Even if you admire a director's work, sometimes you don't know for sure if you will have the same taste or the same method," says the CD. "We liked all the same actors; we seemed to have the same approach; my interpretation of the script seemed to jibe with the movie they wanted to make. Kathryn wanted to do the film in as much of a documentary, ultra-realist style as possible; the actors I tend to favor are people who fit very easily into that aesthetic."
He adds, "I think we're used to a Hollywood idea of what reality is and what a character actor is, and for this they really needed to feel like people you could be interacting with on the street, who didn't feel like glamorous Hollywood movie stars who were showing up to do a war movie." Plus, the summer shoot in the Jordan desert was intense. "She needed people to be soldiers as much as actors, in terms of what was demanded of them," notes Bennett.
The rave reviews and lengthy theatrical run are a testament to the film's critical and popular reception. But for Bennett the returns are even greater. "So often when you're doing an independent film, regardless of the budget, as a casting director you don't actually cast that many parts, certainly not leads," he says. "And it was just so nice to be able to cast the people that were right for it."
Casting Director: Mark Bennett
Director: Kathryn Bigelow
Writer: Mark Boal
Starring: Jeremy Renner, Anthony Mackie, Brian Geraghty, Guy Pearce, Ralph Fiennes, David Morse, Evangeline Lilly
The Pitch: Members of an Army Explosive Ordnance Disposal team (Mackie and Geraghty) trying to survive a tour in Iraq must adjust to their unpredictable new leader, bomb specialist Staff Sgt. William James (Renner).