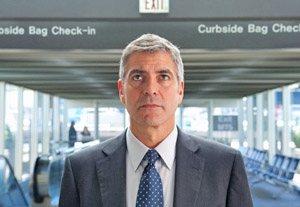 Jason Reitman, the Oscar-nominated director of "Juno," says he is not interested in an actor's range, much preferring honesty. "I suppose I don't really enjoy acting," he admits frankly. "I find the most memorable and impressive roles are the ones in which actors magnify elements of their own personality and are forced into a kind of self-examination." Indeed, he says he writes screenplays with specific actors in mind, writing the part tailored not only to a voice but also a similarity with the performer or his persona.
Based on the novel by Walter Kim, "Up in the Air" was no exception. For Reitman, George Clooney was the obvious choice for Ryan Bingham, a corporate downsizer and relentless business traveler who, after years of an unattached life, suddenly finds himself ready to make a romantic connection. Well, sort of.
As with the protagonists in other Reitman films, Ryan's life choices and philosophy are not in sync with societal norms. The actor playing the role cannot judge his character's worldview, including its most distasteful aspects, says Reitman. He cannot, for example, find the phrase "termination expertise," let alone the job, repellent. In fact, for him it's a valid and necessary occupation. Further, he has to view his obsessive air travel and pleasure in living alone as wholly rational and, indeed, desirable. As Reitman tells it, his vision of how Ryan should be played and Clooney's persona meshed perfectly. "It would have been easy to make a movie about a man who simply abandons his life on the road in favor of companionship," he says. "It is only through incredible nuance that George Clooney is able to demonstrate the character's openness to romantic and familial bonds while never denouncing his work and lifestyle."
With Clooney cast, Reitman worked with casting director Mindy Marin to round out a flawless ensemble of actors. For the part of Ryan's new girlfriend Alex, Reitman says he was looking for an actor who was able to balance "sexuality with femininity, unapologetic ambition with self-awareness, and in a world of girls I needed a woman. I needed Vera Farmiga. Her ability to walk the tonal tightrope is unmatched, and I knew she could seduce George Clooney."
Reitman tapped Anna Kendrick for the role of brilliant and arrogant recent college grad Natalie on the basis of her debut performance in "Rocket Science." "It was like watching the lightning-quick wit of Veronica Lake in 'Sullivan's Travels,' he recalls. He says he had no doubt she'd be able to tackle Natalie, who had the moxie to challenge Ryan at every point. He also knew she had the acting chops to emotionally turn on a dime. Many of the smaller roles he cast on the basis of seeing those actors in films or on stage. "Only after seeing Danny McBride in 'All the Real Girls' could I write the part of Ryan's future brother-in-law Jim Miller," Reitman says. "Only after seeing Amy Morton on stage in 'August: Osage County' could I write the part of Ryan's sister Kara Bingham."
But the bottom line is "whether or not I want to spend time with an actor," he says. "I have heard directors say that friction leads to good filmmaking. That may be true for some but certainly not me. Not only is life too short but I am most skillful at showcasing the people I love," he says. "The reason you will continue to see Jason Bateman, J.K. Simmons, Sam Elliott, as well as the others I've mentioned thus far, is because of our chemistry. They inspire me through friendship, and I in turn do not rest unless they are showcased in the kindest light on the screen."
Casting Director: Mindy Marin
Director: Jason Reitman
Writer: Jason Reitman and Sheldon Turner, based on the novel by Walter Kim
Starring: George Clooney, Vera Farmiga, Anna Kendrick, Jason Bateman