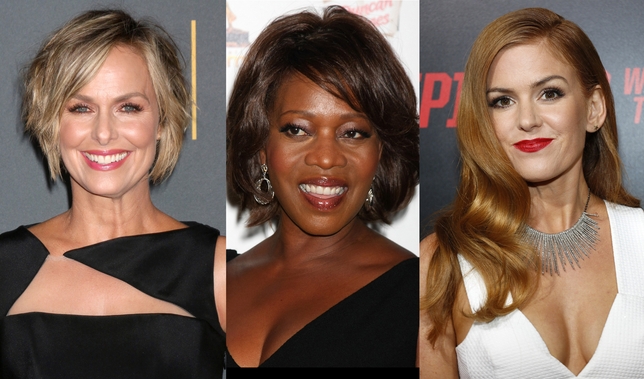 Stay in the loop on industry and casting news with our weekly write-up on who's been slated for recent film and television roles!
"Saint Judy"
Immigration is a hot button, and often polarizing, topic for a lot of Americans these days but for one woman the fight wasn't to be had on Facebook, but in the courts. Isla Fisher is brushing up on her legal jargon and preparing to step into the shoes of Los Angeles-based immigration lawyer Judy Wood. Back in 2000, as the world was recovering from the non-apocalypse of Y2K, Wood was inadvertently changing the laws of asylum for women. While representing an Afghani immigrant who had been persecuted for opening a school for girls in her home country, Wood, by way of the United States Court of Appeals for the 9th Circuit, managed to have women, including female refugees, designated a protected class. Documentary director Sean Hanish will pilot the film with the help of Betty Mae casting. Currently Fisher is only attached but Alfred Molina has also been rumored, though unofficially, to join. Production on the biopic is expected to start at the beginning of May. Los Angeles will host the film.
"The Bold Type"
Freeform, the former ABC Family, is looking for some serious girl power in their new series pickup "The Bold Type." The series is based on the hectic life of Hearst Magazines chief content officer Joanna Coles. This time, however, the global magazine is called Scarlet. The Scarlet Women, as they are known, run the female-oriented magazine while trying to make their voices heard. Leaning on each other, the women navigate their hectic lives and loves together. The series, which recently went into production, has already locked down their regulars but will toss in guest and costar parts on an episode-by-episode basis. As it stands the Meredith Tucker-assembled cast currently includes Melora Hardin, Aisha Dee, Sam Page, Katie Stevens, Meghann Fahy, and Matt Ward. Production on the series will continue through the summer, which is also the anticipated premiere date for the series. Production is currently taking place in Montreal.
"Juanita"
Alfre Woodard is about to let it all go for a dream. Woodard is jumping into the lead role of "Juanita," a film about second chances. After having an intense dream where Blair Underwood asks her for a loan, Juanita decides to leave her life and move to Montana, where she reinvents her world. The film, based on the book, "Dancing on the Edge of the Road," by Sheila Williams, finds Juanita starting fresh with a new job, friends, and love. Joining Woodard on the Kim Coleman-cast project are Kat Smith, Sam Hennings, Tsulan Cooper, and Blair Underwood. Production is currently underway in Virginia and will continue through the spring.
Want to find out who's casting? What projects are happening? What's coming up? Call Sheet's Industry Buzz will help you stay in the know.