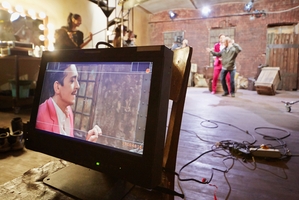 Even if you you've been busy, don't miss out on this week's most popular audition listings!
'SING TO THE STARS'
This nonunion feature film takes place in 1929 and follows ambitious performers in their 20s "as they struggle against poor backgrounds, complicated relationships, and turmoil in society to follow their dreams to Broadway and Hollywood." Submissions are being sought nationwide/worldwide!
'FROM EARTH'
This short film is set at a desert motel and "examines love, family, and the greater reaches of the universe after a horrific incident forces two estranged brothers to see their world for what it really is." Quite a few roles are being cast, and submissions are being sought nationwide/worldwide!
'THE CODEX'
Another one that you can submit an audition from anywhere, this feature film tells a modern day witch tale that discusses the struggles of youth, old age, and a witch-creature summon. Both lead and supporting roles are being cast, and this gig is paid!
ABC'S CASTING PROJECT, SUBMISSIONS
Disney ABC Television Group Casting is seeking submissions for ABC's casting project. The casting director says, "As part of its ongoing effort to discover and develop diverse talent and actors with disabilities, the ABC Casting Department will hold auditions for consideration for the 33rd ABC Talent Showcase. Selected participants perform for casting directors, talent agents, managers and other industry professionals who view a series of live, one-act vignettes performed by the actors."
This is an incredible opportunity for performers, and submissions are being sought from New York City.
And be sure to check out the rest of our audition listings!