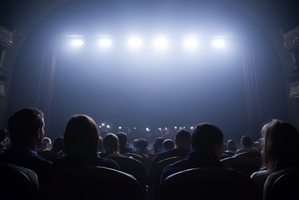 Nonunion theater performances don't get as much love as they should. Here are five auditions for the nonunion actors looking to get themselves on stage!
"BREAKING LEGS"
"Breaking Legs" is seeking talent for the supporting role of Tino, a 55–62-year-old mafia type. Submissions are being sought from New York, New Jersey, or Pennsylvania. This performance at the Hunterdon Hills Playhouse in New Jersey plays $125, plus housing and car on premises.
VOX LUMIERE, "THE PHANTOM OF THE OPERA"
The Vox Lumiere is looking for lead singers in the Los Angeles region. This new presentation of "Phantom" seeks "young youthful-looking, sexy" male and female actors who can preferably read music. Rehearsals begin in August with a Sept. 19 opening. To apply email headshots, résumés, MP3s or links with singing samples to audition@voxlumiere.com.
"AN IRISH CHRISTMAS"
This paid production is on a nationwide-worldwide search for a "male singer with excellent baritone vocal range" for this show about Christmas in Ireland, told with music, traditional dance, and Irish soul. Rehearsals begin mid-July and extend through Nov. 2 before touring 11 performing arts centers in different states until Dec. 21. The gig offers a weekly salary, accommodation, travel, and per diem. When you apply, be sure to note your weekend and tour schedule availability along with the basics (résumé, contact info, etc.).
"JUGGALICIOUS"
Who hasn't been waiting for a show about the horrorcore rap group, Insane Clown Posse, and their legions of fans, who call themselves Juggalos. This dark comedy follows Ice Pete, a young Juggalo from down south who has to call upon his fellow Juggalos to help get his grandmother a new kidney. "At its core, this play is about the human struggle against the immovable obstacles of poverty and abuse, and the drastic, though often destructive, measures one may take in order to overcome." Casting all leads and supporting roles, these auditions will be held in New York City on July 10, with mid to late August performances at The Robert Moss Theater.
"CRUMBLE (LAY ME DOWN, JUSTIN TIMBERLAKE)"
If you ever wanted to play an apartment, Justin Timberlake, or Harrison Ford, the opportunity for you has arrived, dear friend. "Crumble" is about a mother and a daughter coping with the loss of their patriarch, their nagging apartment (pissed about being allowed to go to ruin), and their visitations from their respective celebrity crushes. Auditions will be held July 12 in New York.
Inspired by this post? Check out more of our audition listings!