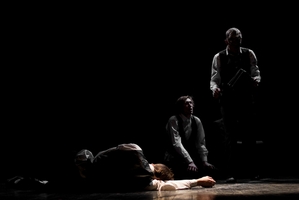 Here's our weekly roundup for some auditions from Los Angeles to New York that you might have missed this week!
STILETTO Entertainment
Looking to travel the world while performing? Holland America Line's luxury vessels are seeking talented dancers, singers, and triple-threat performers to jump onboard, literally and figuratively. Auditions will be held Sept. 6 in Boulder, Colo. and Sept. 13 in Minneapolis, Minn. and you'll be required to learn a combination so wear your dance clothes! Contracts last eight months.
"PETER AND THE STARCATCHER"
Phoenix Entertainment is conducting open auditions for the 2015 nonunion national tour of the Tony Award-winning play. Actors must be able to sing and have a "good physical comedy sensibility." All ethnic and racial backgrounds are encouraged to apply. The production is casting two leads and 10 male supporting roles. Auditions will be held Aug. 25 and 26 in New York City.
"GUYS AND DOLLS," DANCERS
The Oregon Shakespeare Festival is casting athletic dancers in New York who can also sing. The gig plays $883/wk for Equity LORT non-rep contracts. Auditions will be held Aug. 23. Bring a headshot and résumé (stapled). Men must bring knee pads and women must bring character shoes. Additionally, hopefulls must prepare 16 bars from the show or 16 bars that show your range, as well as prepare a one-minute contemporary monologue.
"AIN'T MISBEHAVIN', " "FIVE GUYS NAMED MOE," "BAH HUMBUG"
The Irving Street Reperatory is casting African American singers, dancers, and actors for three upcoming productions at the Faison Firehouse in Harlem, N.Y. This Equity mini-contract will pay for all the positions. Auditions will be held Aug. 25 in New York City. Rehearsal will run Oct. 1–11 in Harlem.
"HANDLE WITH CARE"
Casting two male actors for an Off-Broadway Jewish Christmas story that pays a minimum of $310/wk. Auditions will be held Aug. 28 and rehearsals will begin Oct. 7 in Burbank, Calif. The production will run Nov. 8 through Dec. 14. Be sure to prepare a two-and-half-minute comedic monologue. A monitor will be provided.
Inspired by this post? Check out our commercial audition listings!