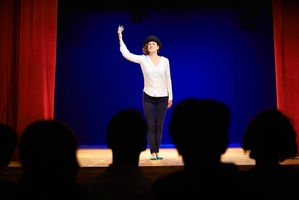 Don't waste time! Get to prepping for these six opportunities you might have missed this week!
This is an open call for local background performers in the Purchase, N.Y. area for the CBS pilot, "Members Only." This casting call is not union-exclusive, though those cast will be playing exclusive country club member-types in September when the pilot shoots on location. Professional pay will be provided. Auditions will be held Aug. 26.
"ONCE ON THIS ISLAND"
This Equity musical is casting for the female African-American role of Timoune. It will be running from Jan. 10 to Feb. 23 in Milwaukee, Wis. and auditions will be held Sept. 1. If hired, you'll be compensated $510/wk.
MARTIN SCORSESE "RATPAC" COMMERCIAL
Seeking background performers for an Asian casino commercial directed by Martin Scorsese currently titled, "RatPac" shooting in New York City. In order to be considered, submit two current, clear digital photos—one close-up and another full-length—or three-quarter-length photo in evening attire, formal wear, and/or chic party attire.
"VEEP"
Casting supporting and background actors for Season 4 of the HBO series "Veep," starring Julia Louis-Dreyfus. Actors should be based in Baltimore, Md., Washington D.C., or Philadelphia, Pa.
BENEFIT PERFORMANCE FOR THE HOMELESS
This production is seeking actors and singers for a benefit performance to raise awareness about homeless youth. The production will run Oct. 3–5 in New York City, and rehearsals will begin Sept. 3.
MOSQUITO TVC COMMERCIAL
Seeking actors who are Australian or or can do a great accent to play an Australian dad (age 35–40) described as "a lovable goofball, seems tough and rugged on the outside, but he's a softy deep down" in this 30-second spot.
Inspired by this post? Check out more of our audition listings!