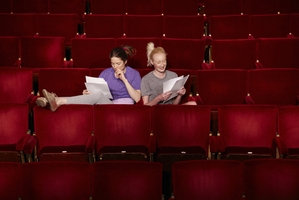 Backstage casters are looking for our readers to fill some great roles. Here's a list of six you might have missed this week, and that you might want to submit yourself for over the holiday weekend!
"AMERICAN HORROR STORY: FREAK SHOW"
The hit FX show is casting background actors and extras for a gay bar scene in the upcoming installation "Freak Show," starring Emmy winner Jessica Lange and Sarah Paulson. This gig, based in New Orleans pays $101.50/hour with a 12-hour minimum. Additional compensation will be provided for fittings and necessary grooming. Note: Extras should be OK with smoking "movie" herbal cigarettes.
"JACK'S MUSICAL CROWN"
This Los Angeles short film about a young African American orphan boy trying to achieve his dreams in the racially segregated 1950s is seeking talent to fill a female supporting role. Though no pay will be provided, this could lead to a great new clip for your demo reel!
1920s BARTENDER
Have you been watching a lot of "Boardwalk Empire" and are looking for an excuse to throw out your new '20s period dialogue? This private dinner party in Westchester County is casting a male actor who can play a bartender (actual bartending skills are not necessary). "If you enjoy interacting and making people laugh, we want to hear from you," says the casting notice. Submit your headshot and résumé. Compensation will be provided.
"HEY BROTHER"
Three roles are being sought—two male and one female—for new play "Hey Brother" about Isaac, a sensitive history grad student who lives with his frat boy-financial planner brother. "Isaac wishes to date Kris, a quiet Asian-American female in search of her identity as an adopted child, but her desire for a family of her own threatens the boys and makes them question how far they will go in their relationship together," says the casting call. Seeking submissions from the Los Angeles area.
"A CHRISTMAS PETER PAN"
The AlphaNYC Theater Company is seeking talent to fill the entire cast of Peter Pan, from the titular character to Captain Hook, Tinkerbell, and Santa Claus. The gig will be running Nov. 22–23 at the Producers Club in New York City. Rehearsals will begin Sept. 20.
"FIFA 15"
Eleven supporting roles are being cast—including an out-of-shape office worker, a dog owner, and a college student—for an upcoming comedic commercial to promote the release of the "FIFA 15" video game. The job pays $150, rehearses Sept. 9, and shoots Sept. 10 and 11.
Inspired by this post? Check out more of our audition listings!