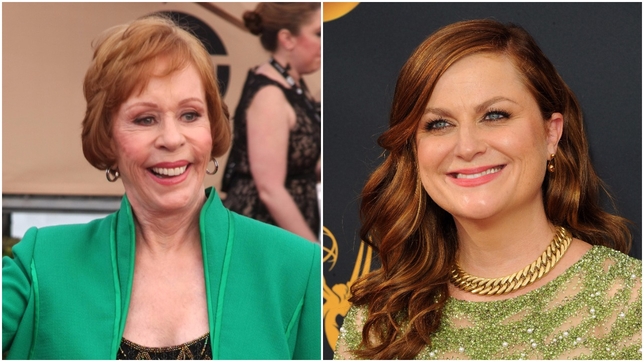 Stay in the loop on industry and casting news with our weekly write-up on who's been slated for recent film and television roles!
"Household Name"
Get ready to tug on your ear and roll with laughter because funny ladies Carol Burnett and Amy Poehler are teaming up at ABC. Their pilot will follow a family who, after years of yearning, buys their dream home. The purchase, however, comes with one setback: The family must live with the former occupant, an eccentric former movie star. Burnett, who received the SAG Life Achievement Award last year, is currently the only name attached to the comedy with executive producer Poehler. Casting on the project will go through Greenstein/Daniel's office. While shoot dates are still up in the air, the pilot is expected to shoot in Los Angeles.
"Amy's Brother"
Melissa McCarthy may be capturing headlines with her gum-chewing Sean Spicer bit, but behind the scenes she's gearing up for her new comedy pilot on Fox. Along with husband and producing partner Ben Falcone, McCarthy is setting up "Amy's Brother," which follows a mother of two going through a hectic divorce as she moves in with her estranged, type-A brother. The pilot is setting up shop in Los Angeles and will begin filming in early March. Eyde Belasco Casting is handling the single-camera comedy project.
"Perfect Citizen"
CBS wants to blow the whistle on its new Edward Snowden–inspired pilot. After being exiled for a year for outing his employer, the general counsel for the NSA picks up a new job at a Boston law firm. Finding he's revered by some and hated by others, he starts to slowly rebuild his life postscandal. The pilot, which is being cast by both the New York and Los Angeles offices of Telsey + Company, is currently without a cast. Production on the drama is expected to start around pilot season, though no solid dates have been announced. Likewise, a production location is still in the wind, but odds are it will land in Los Angeles.
"Reverie"
Who wouldn't want to be stuck in a dream world? NBC is about to add a serious twist to wandering minds. After leaving the FBI, a hostage negotiator is asked to return to help with a special project. When participants in a virtual program refuse to leave the nonexistent world and return to reality, it's up to the one-time negotiator to get them to leave before they fall into a coma. Talk about some serious repercussions. Cami Patton Casting is currently building its dream team to flesh out the cast that currently only includes Sarah Shahi ("Person of Interest"). Production is expected to start at the beginning of March. Vancouver, British Columbia, will host the drama pilot.
For the latest news, check out backstage.com/resources to find thousands of production listings, casting directors, acting classes, agents, and more!
Want to find out who's casting? What projects are happening? What's coming up? Call Sheet's Industry Buzz will help you stay in the know.