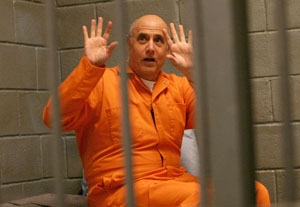 These days I'm not a big soda drinker. Sure, I'll get a fountain Coke at Mexican restaurants, where the syrup nozzle always seems to be turned on full blast, with predictably delicious results -- but other than that I tend to abstain. Was a time, though, when I used to put away a case a week of the world's best soda, Sunkist Sparkling Lemonade. Then one day it disappeared from the shelves of the local grocery, and attempts to track down a steady supply proved fruitless. A decade later, I was forlornly meandering down the soda aisle at Ralphs, and boom! There it was.
I thought I'd never again feel the feeling I felt that day, excitedly loading my cart with yellow boxes of liquid sunshine, but I was wrong. I had more or less the same reaction when Netflix announced that it was bringing back "Arrested Development." I don't feel like doing the research to state definitively that reviving a live-action show with all the original cast after it's been off the air for a few years ("A.D." ended its third season in February 2006) is unprecedented, but I can say that it is rare. It's happened with animated shows, but it's not like the creators of "Futurama" had to coordinate the busy work schedules of Bender and Zoidberg so they could find a window to shoot a new season. As far as the Bluth family goes, it's not like any of the actors are hurting for work, but nevertheless, here we are, with new episodes set to begin shooting in early August. Casting director Allison Jones is tasked with continuing the "A.D." tradition of amazing guest stars. As Carl Weathers would say, there's still plenty of meat on this bone.
In other news, the 2013-2014 pilot season started in July when CBS picked up an untitled Rob Greenberg comedy pilot. Looking at the synopsis could lead to one of two conclusions: Either CBS execs have never heard of the TV Land show "The Exes," or they have heard of it, and they love it so much that they wanted a show to be the "Volcano" to its "Dante's Peak." The pilot (formerly known as "The Ex Men," which, interestingly, was also the original title of "The Exes") centers on a man who, on moving into one of those depressing furnished apartment complexes after being dumped by his girlfriend, forges friendships with the assortment of sad-sack stereotypes who are now his neighbors. I predict these will include delusional-midlife-crisis-Lothario guy, now-fat-former-athlete-whose-wife-left-him-because-he-didn't-appreciate-her guy, and smart-and-endearing-but-too-busy-playing-Starcraft II-to-learn-about-women guy. Collin Daniel and Brett Greenstein will be in charge of casting these roles, as well as the female lead: forced-by-financial-circumstances-to-live-in-depressing-divorcé-apartment-complex-but-otherwise-viable-and-also-cute girl.