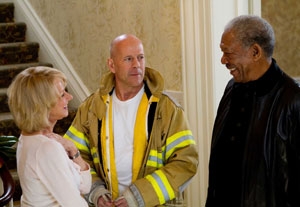 As a redhead, I enjoyed Pixar's "Brave" for reasons that you non-gingers cannot understand. You see, we don't exactly have a deep roster when it comes to action heroes. Sure, Pippi Longstocking has superhuman strength, and Carrot Top has managed to bulk himself up to the point that people are now afraid to make jokes at his expense, but understand: Pippi and the Top are the best examples I can think of. So while "Brave" 's protagonist, Merida, immediately jumped to the top of the red-haired badass rankings, we're still waiting for that person who will do for us what Jason Statham did for the balds.
Until 2010, old people had a similar gripe. Once you turn 60, your ass-kicking days are over, so Hollywood sayeth. But then along came "Red," a movie starring Bruce Willis (embracing his advanced age), John Malkovich, Morgan Freeman, and Helen Mirren as former CIA agents who have to dust off the old skill sets after Willis is targeted for assassination. It was generally well received by critics, but more important, it made lots of money. Movies that make lots of money get sequels, and "Red" is no exception. The sequel will find Willis and company gallivanting across Europe trying to find a nuclear weapon and defuse it in time to catch the season finale of "Pawn Stars." Mirren and Malkovich are also returning, joined by the semi-old Catherine Zeta-Jones, and possibly the super old Anthony Hopkins as the villain. Shooting is scheduled to start in September in Montreal and London. Deborah Aquila and Tricia Wood are casting. So combined with the "Expendables" sequel and also Mitt Romney, old people should have plenty to root for over the next year.
The cast of "Red" have more than a few Oscars among them, but I don't think the sequel has a shot in 2014. The main reason is that a movie called "August: Osage County" will be winning every single one that year, probably. Also set to start shooting in September, "August" is an adaptation of the Tony- and Pulitzer-winning play by Tracy Letts. It tells the story of a severely dysfunctional family whose members participate in a mass airing of grievances and secrets in the days surrounding the disappearance of their alcoholic patriarch. Starring in the lead role as the mean, bitter, pill-popping harpy of a matriarch is, oh, Meryl Streep. Also starring are Julia Roberts and Chris Cooper. So at this point, orangutans could fill all of the other roles and the movie would still be a shoo-in for a nomination. Paul Schnee and Kerry Barden are casting other human actors, though, presumably.