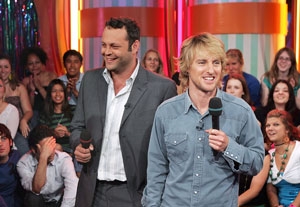 Catrett Locke Casting is casting background for "The Internship," a new comedy starring Vince Vaughn and Owen Wilson as two friends who are laid off from their sales jobs and try to restart their careers as interns at a successful dotcom company, where their coworkers and managers are in their 20s. The film shoots in July in Georgia.

"The Internship," formerly known as "Interns," was written by Vaughn and will be directed by Shawn Levy ("Date Night," "Night at the Museum"). The cast also includes Rose Byrne, Max Minghella, and JoAnna Garcia.

Casting directors Rose Locke and Jamie Lynn Catrett are seeking male and female extras of all ethnicities and all types, to portray parents between 25 to 40 years old. These scenes will shoot Thursday, July 12 and Friday, July 13.

For scenes shooting Tuesday, July 24 through Friday, July 27, the casting directors are seeking gorgeous female bartenders age 21 or older who have experience bartending, as well as a male bouncer who "must be a really big security type."

For more information and to apply, view the full casting notices online at BackStage.com. The casting directors are seeking local Georgia talent for these roles. Pay is provided for all roles.

In addition to casting for "The Internship," Catrett Locke Casting is currently casting extras for "42," a feature film about legendary baseball player Jackie Robinson that is shooting in Georgia this summer. Harrison Ford stars as Brooklyn Dodgers executive Branch Rickey, with Chadwick Boseman as Robinson. The film also features Hamish Linklater, Christopher Meloni, and Alan Tudyk.

Catrett Locke Casting also casts background for USA's "Necessary Roughness" and VH1's "Single Ladies."