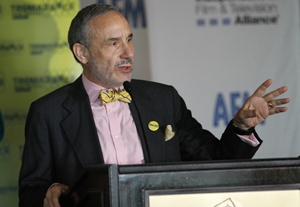 Troma Entertainment
is currently casting lead and supporting roles for "Return to Class of Nuke 'Em High," a nonunion feature film that revisits the independent studio's 1986 cult classic "Class of Nuke 'Em High." In the original, students at a high school next to a nuclear power plant start acting and looking strange after buying contaminated drugs from a plant employee.
Lloyd Kaufman
, the creator of Troma's "The Toxic Avenger," will direct the film, which is scheduled to shoot this summer in New York and New Jersey.
Regina Katz is casting "Return to Class of Nuke 'Em High." Lead roles include Lauren, a pretty and innocent girl; Chrissy, who is described as attractive but "not so innocent"; Eugene, a cute but dorky guy; and Brick, a tough guy with tattoos and piercings. These characters are 18 years old, and some nudity will be required. In addition, actors over 30 will play Mr. Warner, the evil head of a meat processing factory, and Mrs. Westley, the high school principal. The "Cretins" are males and females with piercings and/or tattoos, crazy hairstyles, and unique physical attributes.
And according to the producers, "Great cameos will be available for unusual males and females of all types, ethnicities, and sizes, with unique physical attributes, exotic animals, collectible cars or motorcycles, or other unusual vehicles."
For more information and to apply,
view the full casting notice at BackStage.com
. (Subscription required.) This is a nonunion project that offers little or no pay, but promises a unique experience on set being directed by Kaufman, an iconoclast of independent film.
Kaufman, the president and co-founder of Troma Entertainment, has been writing, directing, producing, and acting in movies for more than 40 years. In addition to "Class of Nuke 'Em High" and its sequels, his films include "Poultrygeist," "Tromeo and Juliet," "Waitress!," and "The Toxic Avenger," which has been adapted into an
award-winning stage musical
.