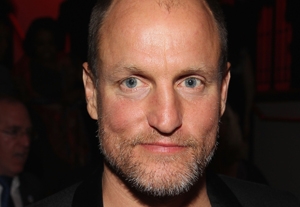 New York stage actors are being given a chance to work with two-time Oscar nominee Woody Harrelson this summer. Auditions will be held in New York this week for Harrelson's "
Bullet for Adolf
," an original play that is described as "almost a comedy." Rosalie Joseph is casting the project, with associate casting director Mia Cusumano. Rehearsals begin in June, and the play opens Off-Broadway in August.
Harrelson co-wrote the semi-autobiographical play with Frankie Hyman, based on their shared experience as construction workers in Houston in the early '80s. Harrelson is also the director and co-producer of "Bullet for Adolf," a comedic examination of race, gender, and sexuality in which German building contractor Jurgen throws an 18th birthday party for his daughter and invites his African-American and Caucasian crew to his home to celebrate. But when Jurgen's valuable Hitler-era Luger disappears, suspicion splits along racial lines.
"We debate some important issues, for example race and gender, in what we hope is a provocative and humorous piece,"
Harrelson said
when the play premiered in Toronto last spring. "We'd like audiences to take this home and continue the conversation. That is what a great night of theater encourages for me."
"I never expected to be friends with Woody or any other white person for that matter in 1983," Harlem native
Hyman said last year
. "Woody was the first white friend I ever had."
The plot has been fictionalized, but the characters are inspired by real people from Harrelson and Hyman's youth. Roles include Frankie, a young African-American man who becomes the prime suspect when his boss' prized souvenir goes missing; Zach, an aimless Caucasian man (and Harrelson stand-in) in his mid-20s whose life becomes a lot more interesting after he joins the construction crew and befriends Frankie; their roommate Clint; Batina, Jurgen's 18-year-old daughter and Zach's ex-girlfriend; Jackie, a young African-American woman who is Frankie's love interest; and other African-American and Caucasian males and females in their mid-20s. Jurgen is the only middle-aged character and is "possibly more comfortable working with whites than blacks, but completely willing to have African-American visitors in his home."
Equity principal auditions will be held Friday, May 11, Saturday, May 12, and Sunday, May 13 in New York City. For more information and audition details,
view the full casting notice on BackStage.com
. (Subscription required.)
Casting director Rosalie Joseph's credits include the TV series "Body of Proof" and "Sherri," the Robin Williams comedy "Jack." Joseph also cast the Fox drama pilot "Guilty," starring Cuba Gooding, Jr., which has not yet been picked up by the network. In the mid-'90s, she cast Broadway revivals of "Tartuffe," "Bus Stop," and "Holiday."