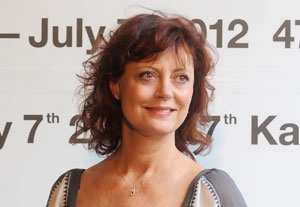 Susan Sarandon is finally sharing her love of ping-pong with her fans. The Academy Award-winning actress, who is a co-owner of the growing
SPiN
ping-pong franchise, will star with Amy Sedaris in a new independent comedy titled "Ping-Pong Summer." Production begins in September in Ocean City, Md.
The coming-of-age film from writer-director Michael Tully is set during the summer of 1985, when a family vacation changes everything for a teenage boy obsessed with ping-pong.
Sarandon told VH1
in March that the film will be "like 'The Karate Kid' with ping-pong."
Pat Moran and Associates
is casting Hispanic or Caucasian girls between 15-18 years old, and African-American or Caucasian boys between 13-14 years old, for various roles. Both union and nonunion actors are encouraged to apply.
Moran is a Baltimore-based CSA member whose TV credits include "Veep," "Game Change," "The Wire," and "Oz" for HBO, "Homicide: Life on Street," and David Fincher's upcoming Netflix series "House of Cards," starring Kevin Spacey. She has also cast many feature films, including "State of Play," "He's Just Not That Into You," "Syriana," "The Replacements," "The Runaway Bride."
UPDATE:
This casting opportunity has now expired.
Search BackStage.com for more casting notices in Maryland and the surrounding area
.