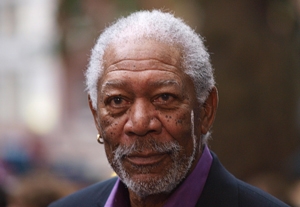 I can't say for sure where the "an old person acting like a young person is funny" thing started. The first time I remember seeing it was in the Wayans brothers' 1996 opus "Don't Be a Menace to South Central While Drinking Your Juice in the Hood," which featured an old, frail grandmother who swore like a sailor, listened to Wu-Tang Clan, drove a low rider with the license plate "OG," and complained about arthritis in her trigger finger. By 2000, it seemed like foulmouthed, rapping grannies were everywhere. A few years ago, a guy who started a Twitter feed consisting of "real" quotes from his septuagenarian father got a book deal and a CBS sitcom starring William Shatner! Suffice it to say, wherever the trend started, it shows no signs of abatement.
Thus: "Last Vegas," an upcoming comedy about four retired friends who head to Vegas for a bachelor party. The script must be pretty good, since the four olds will be played by Morgan Freeman, Michael Douglas, Kevin Kline, and Robert De Niro. De Niro has made some questionable choices of late, but I trust the collective wisdom of these four guys enough to expect something not terrible. Jon Turteltaub, the man behind the camera for both "National Treasure" movies, will direct, ensuring that even if "Last Vegas" does suck, at least you'll get a decent drinking game out of it. (Oh, you didn't know about the Natty Treasure drinking game? Every time anyone says "treasure," drink. That's it. Have fun!) Anyhow, if you've ever dreamed of seeing Red from "The Shawshank Redemption" do cocaine off a toilet seat, get excited, bro. Francine Maisler is casting ahead of a September start in Atlanta and Las Vegas.
While I'm not prepared to vouch for the goodness of the above-discussed title, I feel like monetary wagers could be placed on 2010 Black List–maker "Murder of a Cat" being awesome. When a guy finds his cat dead, he suspects foul play -- mostly because the cat has a crossbow bolt sticking out of it. However, when he tracks down his initial suspect, a girl who had posted missing-cat fliers around the neighborhood with a picture that resembles the deceased, he discovers that his cat had been leading a double life. The newly acquainted co-owners then join forces to find the bowman.
If you are the type of person who constantly bemoans Hollywood's lack of originality, the preceding synopsis should make you glad. Already at least one big name is attached: casting director John Papsidera, whose company Automatic Sweat generally concerns itself with blockbusters such as "The Dark Knight" and the upcoming "Oz: The Great and Powerful." Shooting is scheduled to start in late October in Los Angeles. I want to end this column with a cat-themed pun, but I won't.