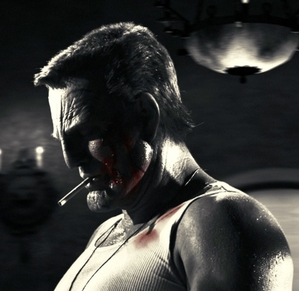 No, I have not seen "The Dark Knight Rises." Nor have I seen "The Avengers" or "The Amazing Spider-Man." I loved comic books as a kid, but I am not a comic-book movie fan. If you exclude the borderline case of the Hellboy movies, my favorite comic-book adaptation is the admittedly execrable 1997 "Batman & Robin," due simply to the fact that placing Arnold Schwarzenegger in the role of a Batman villain led to a record-shattering number of classic one-liners ("Ice to see you!" "Let's kick some ice!" "Freeze in hell, Batman!"). At least that movie turned the camp up to 11 instead of trying to construct a world where everyone reacts more-or-less normally to a guy wearing a spandex animal costume, and where super villains develop technology that would make them instant billionaires were they to sell it to the military, but opt instead to use it to steal diamonds or something.
Another borderline case, which I did thoroughly enjoy, was Frank Miller and Robert Rodriguez's "Sin City," an adaptation of a few "yarns" from Miller's books of the same name. The acting was great all around, the world was fully realized, and the only thing that tripped my bullshit alarm in its 124-minute run time was when they tried to pass off Elijah Wood as being decent at hand-to-hand combat. That being the case, I am eagerly awaiting the next Sin City movie, "Sin City: A Dame to Kill For," which is set to (finally) go into production in October in Austin, Texas. The new film, like the first, will intertwine multiple stories from the Sin City universe, two of which are brand-new, having been written by Miller for the film. Mickey Rourke, Jessica Alba, and Rosario Dawson are all set to reprise their roles, with other actors from the 2005 film most likely returning as well. Mary Vernieu of Betty Mae Inc., who cast the original, will again be charged with finding actors to play the rain- and alcohol-soaked denizens of Basin City.
Another intriguing project set to start production in October is "The Coup," an action thriller set to star Owen Wilson as a man who moves to Cambodia, only to be swept up in a coup, whereupon he must protect his family from the violent rebels intent on driving out foreigners and obliterating every known copy of "Shanghai Knights." Also set to star are Michelle Monaghan as his boring wife and Pierce Brosnan as a government operative of some kind. Owen Wilson as action star doesn't strike me as improbable as long as he ditches the refined Justin Bieber hairdo he's favored for the last decade or so. Eyde Belasco is casting ahead of a late October start in Thailand.