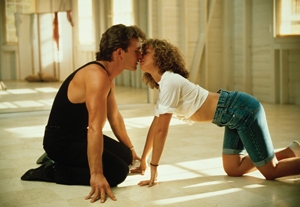 I'm going to try not to rant too hard about Hollywood's love of remakes, because at this point ranting about that is about as original as ranting about the poor service at the DMV, or the general uselessness of pennies. But darn it, there are some really pointless remakes on the way.
Ninja Turtles, you're cool. But "Carrie" needs a remake, evidently, despite the fact that this time around no one watching will be shocked when Carrie goes nuts on her classmates -- sort of crucial, I feel, to the original's appeal. Also, since the recent pointless "Footloose" remake somehow made money (my guess: really depressing bachelorette parties), we now have a pointless "Dirty Dancing" remake looming. I put to you that nothing is more '80s than "Dirty Dancing" -- and I say that having discovered, not 24 hours ago, a video of Heather Locklear and Mindy Cohn playing Ms. Pac-Man on a show called "
Battle of the Video Games
." "Dirty Dancing" is, like, a kajillion times more '80s than that. How can you even remake something so quintessentially '80s? It would be like trying to remake Z. Cavariccis or the Power Glove. Let the '80s keep "Dirty Dancing." Let Patrick Swayze and Jennifer Grey rest in peace! If you want to be a part of this desecration of a sacred historical artifact, send your headshot to John Papsidera of Automatic Sweat in L.A. or Stephanie Holbrook in New York. Shooting begins in August.
As long as I've worked myself into this high dudgeon: What is the deal with Liam Hemsworth? If you want to be entertained, go look at a
photo gallery
of his red-carpet appearances. He has one-and-a-half facial expressions: a pensive glare where he seems to be trying to remember if fire is hot, and a self-satisfied glare after he remembers that, yes, it is. I say one-and-a-half because the top 50 percent of his face never moves. Yet evidently all of the studios have gotten together and decided this guy is super awesome. So now he gets to star in a movie with Harrison Ford and Gary Oldman. It's called "Paranoia," and it's based on a 2004 novel by Joseph Finder about a low-level employee of a tech firm who, after he gets caught doing something he shouldn't have been doing, is given a choice: get prosecuted or become a spy at a competing firm. Of course this thing is a hot title at Cannes right now, despite Hemsworth and the fact that it's to be directed by Robert Luketic, a guy whose career trajectory is even more mystifying than Hemsworth's (hint: his last two movies were "Killers" and "The Ugly Truth"). Sigh. This one is being cast by Mackey/Sandrich ahead of a July start in New York and Philly.
And seriously, a Jolly Rancher costs 25 cents now! What am I supposed to do with a coin worth one-twenty-fifth of a piece of hard candy? It's all about the zinc lobby, people!