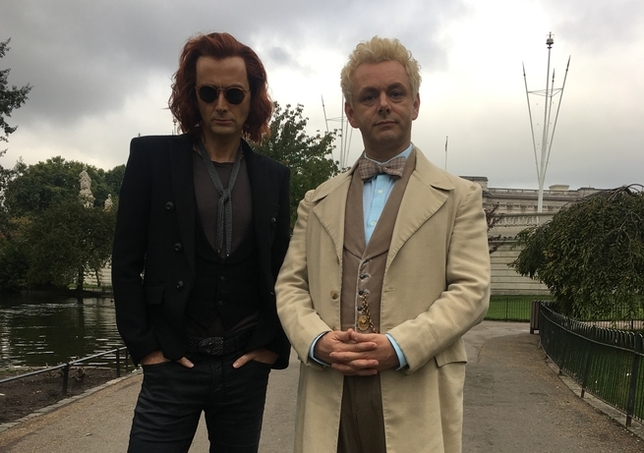 Greenlit means a project is officially a go, so all you have to do is follow these leads to stay up to date. You never know where you'll find an opportunity to land an audition!
"The Irishman"
The cast list is already packed on Martin Scorsese's "The Irishman," with Joe Pesci, Robert De Niro, Al Pacino, Bobby Cannavale, Ray Romano, and more, but they're not quite done rounding it out. Anna Paquin has just joined the film as De Niro's daughter. Production is currently underway in New York City and the surrounding area, and will continue into early 2018. Ellen Lewis Casting is handling principal casting, and you have a shot at booking a background role right here on Backstage!
"Good Omens"
Production photos from BBC and Amazon's "Good Omens" have been showing up since the shoot began recently in the U.K. Filming might be underway for the novel adaptation, but CD Suzanne Smith is still adding to the cast. Jon Hamm was announced as an addition to the six-part series this week. David Tennant and Michael Sheen are leading the cast, which also includes Jack Whitehall, Michael McKean, Miranda Richardson, and Adria Arjona, but the roster might not yet be complete.
"The First"
Beau Willimon's Hulu project is in the midst of announcing names. After Sean Penn was originally attached to his first major TV role, Natascha McElhone was added to star opposite him. The story follows the first human mission to Mars, and is set to go into production later this year for a 2018 premiere. Adrienne Stern is casting.
"Sweetbitter"
Starz's novel adaptation has found its lead in Ella Purnell. The 2016 book by Stephanie Danler follows Tess (to be played by Purnell) after she moves to New York City from a small town and lands a job at a popular restaurant. In getting acquainted with the staff and lifestyle, she's introduced to drugs, drinking, nightlife, lust, and upscale restaurant culture. The series was just announced last week, so they wasted no time in getting talent attached to the project. Laura Rosenthal is handling casting, which seems to be fully underway for leads and supporting roles.
"The Breach"
The recently announced project from History that will turn Bill Clinton's impeachment scandal into a six-part political thriller is currently finding the cast to portray the famous faces of Washington. Jeanie Bacharach is casting the drama R.J. Cutler is adapting from the nonfiction book "The Breach: Inside the Impeachment of Bill Clinton."
Nicole Kidman joins "Destroyer"
The "Big Little Lies" Emmy winner will star in the Los Angeles crime thriller directed by Karyn Kusama. Kidman will play an LAPD detective who must revisit her past dealings with a cult-like gang. No other names have been attached, and Kusama doesn't have a go-to CD, but the project is set for a 2018 release so casting will continue.
Daisy Ridley will lead "Daddio"
The "Star Wars" star might have a new assignment before "Episode IX" begins production in June of next year. She's the only name attached to the Christy Hall–written project so far, but dealmakers are working to assemble all the parts so filming can happen in the first half of 2018, which means additional casting will be happening right around now.
Connie Britton is joining "9-1-1"
The "Friday Night Lights" alum will join Peter Krause and Angela Basset in Ryan Murphy's latest undertaking. The series will follow the drama that goes into the day-to-day of first responders on the job. Britton is just the third actor attached to the project. Murphy is teaming up with common collaborator Brad Falchuk, who's had a hand in "American Horror Story" and "Feud." Both projects were cast by Eric Dawson, Carol Kritzer, and Robert J. Ulrich of Ulrich/Dawson/Kritzer Casting, so it's likely they will be involved in this latest as well.
"Homecoming"
The Julia Roberts–led series "Homecoming," which is coming to Amazon in 2018 is currently casting, and Susie Farris is handling the process. "Mr. Robot" creator Sam Esmail is creating this new series based on a popular podcast from Gimlet media. Nobody else is officially attached to the half-hour drama, so now's your chance!
"The Girl in the Spider's Web"
Claire Foy was just announced as the next Lisbeth Salander in the upcoming adaptation of "The Girl in the Spider's Web." Additional casting is happening now for the film, and "Stranger Things" CD Carmen Cuba is behind the roster. With a release set for October 2018, production is just around the corner.
Kate Winslet returns to the James Cameron universe
Twenty years after teaming up for "Titanic," Kate Winslet is returning to a James Cameron set. This time, she's starring in the "Avatar" sequel, which began production Sept. 25 in Los Angeles. The sequel, as well as the three subsequent films in the franchise, will all shoot at the same time, and will release starting in 2020 through 2025. Margery Simkin is casting.
Looking to get cast? Apply to casting calls on Backstage.