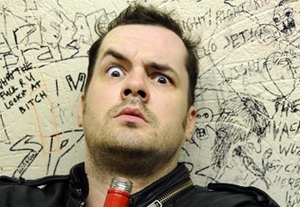 You guys have probably noticed that FX is basically now the channel for original comedy: "It's Always Sunny in Philadelphia," "Archer," "Wilfred," "The League," and the jewel in the crown, "Louie." Also "Anger Management," which I have not seen, but ... here's the thing: FX has such a good track record that when it debuts a comedy series, I can safely assume it's funny. It's like when Tom Waits releases a new album. You're always safe praising it, even if you haven't heard it -- or have, but can't understand what the hell he's saying. Doesn't matter. It's Tom Waits!
That being said, even if I didn't know who Jim Jefferies was, and didn't find his standup hilarious, it would once again be safe to assume that his new show, "Legit," which FX ordered to series in June, is going to be pretty good. Jefferies is a comedian in the tradition of Hicks, Kinison, Carlin, etc. He's outspoken on topics such as religion and drugs, and he uses swear words like Vermeer used light. On the show he will play a comedian whose hackneyed attempts at becoming a respected, contributing member of the social order never seem to achieve results. Co-starring are Second City product Dan Bakkedahl and the always enjoyable DJ Qualls. Hopefully FX has chosen wisely once again. Wendy O'Brien is casting ahead of an August start in Los Angeles.
You know who else is a pretty funny dude? Larry David. He's taken his experience as a real-life annoying person who is easily annoyed and turned it into two of the most successful TV comedies of all time in "Seinfeld" and "Curb Your Enthusiasm." So while Woody Allen has entered a stage in his career where he's basically getting producers to pay for his European vacations with Penélope Cruz, David's deep, cavernous well of neuroses is still providing an inexhaustible stream of topics for shows. And it looks like he'll be bringing his improvisational comedy to the big screen for an untitled project for "Superbad" director Greg Mottola. The project was announced in May, and its plot line is still a secret -- that or there isn't one, really. By all accounts, though, it basically sounds like a feature-length episode of "Curb," which exactly no one thinks is a bad thing. Shooting is scheduled to start in the fall, with Ronna Kress handling casting.