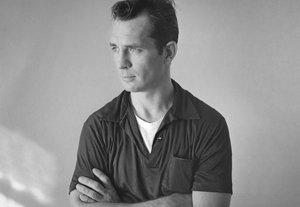 Merrimack Repertory Theatre
is holding auditions in New York City for the world premiere of "Beat Generation," the only full-length play written by Jack Kerouac. This production will be presented in a staged reading format for eight performances as part of the University of Massachusetts Lowell's "
Jack Kerouac Literary Festival
" this October in Lowell, Mass.
Kerouac wrote the semi-autobiographical three-act play in 1957, the same year that his breakthrough novel "On The Road" was published. But after it was rejected from theaters and producers, "Beat Generation" was never published or performed and instead remained in storage for nearly 50 years, until it was discovered in New Jersey in late 2004. The play will now be given life in Lowell, where Kerouac was raised and is buried.
Casting director Peter Crewe is casting characters based on Kerouac and his friends Neal Cassady, Allen Ginsberg, Gregory Corso, and others. Roles include Jule, an African-American man in his 30s; Slim, a tall Caucasian man in his 30s; Tommy, a short middle-aged Caucasian man; Manuel, a 20-something Hispanic poet; Irwin, a poet based on Allen Ginsberg; Paul, a handsome Caucasian man in his 20s; Mezz, "a real hepcat;" The Bishop, a young priest with a Czechoslovakian dialect; Jule's wife Vicki; and Milo's blonde wife Cora.
All characters are members of a loose-knit group of friends circa 1955 who, no matter their level of education, purposefully work blue-collar jobs or remain unemployed in order to avoid the success and money culture of the day. In other words, they are members of the day's counter-culture or "beat generation," who feel the need to inhabit a natural ease while still maintaining intellectual and philosophical energy.
Auditions will be held by appointment only in New York; audition dates are TBD. For more information and to apply to schedule an audition,
view the full casting notice online at BackStage.com
. (Subscription required.) The producers are seeking submissions from Equity members only for these auditions. Actors will be hired on a two-week contract.
Permission for the production was granted by the Kerouac Literary Estate. Actor Ethan Hawke read an excerpt of the play in New York shortly after the manuscript was found, but it has never been performed in its entirety.
A film adaptation of Kerouac's "On The Road," starring Sam Riley, Garrett Hedlund, and Kristen Stewart and directed by Walter Salles, will also be released later this year.