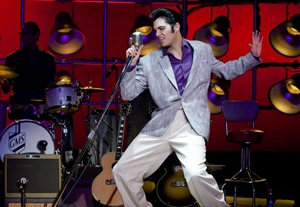 "Million Dollar Quartet" may be wrapping up its Off-Broadway run at new World Stages on June 24, but there are still plenty of opportunities to try out for the show based on a famous recording session with four music legends.
Open casting calls for the national tour and the Chicago production will be held in Las Vegas, Los Angeles and Austin, Texas for the roles of Elvis Presley, Johnny Cash, Jerry Lee Lewis, and Carl Perkins. Candidates should prepare a song made famous by one of these four and must be able to accompany themselves on either guitar or piano. Those auditioning for Presley, Cash, and Perkins should bring their own acoustic or electric guitar, while Lewis candidates will be provided with a piano on site.
Open calls will be held on the following dates: June 14 (Las Vegas), June 24 (Los Angeles), and June 27 (Austin, Texas). For more information, visit
www.milliondollarquartetlive.com/audition.html
. Telsey + Company is the casting office for "Million Dollar Quartet."