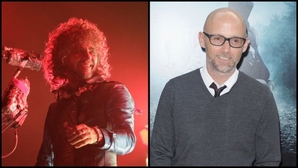 Moby is gearing up for a new album—"Innocents," due out in late September—with plans to shoot a music video in Los Angeles on Aug. 10. His co-star for the clip? Flaming Lips frontman Wayne Coyne.
The electronic-pop pioneer posted on his website that they're holding an open call on Aug. 6, specifying that he and Coyne are looking for extras to play the following roles:
S&M gimp rhythmic gymnast: "someone who is good at the ribbon and stick thing," he elaborates in his signature all lowercase writing style. "preferably a male if such a thing exists. if not a women or girl with a flat chest."
Roller skating ghosts: "ideally people who also would be ok with taking off their costume and get naked but not obligatory rollerskating dance ability takes preference."