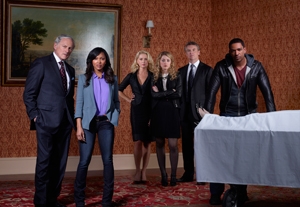 Two new dramas set to debut next season have landed casting directors, Back Stage has learned.
"
Cult
," the CW's hour-long show-within-a-show, retained the casting directors from its pilot. Elizabeth Barnes and Corbin Bronson, of Los Angeles-based Barnes/Bronson Casting, will handle the series casting. The show will use Corrine Clark and Jennifer Page for its casting in Vancouver, B.C., where the series is shooting.
The drama, which will debut during the 2012–13 season, follows a production assistant, played by Jessica Lucas, who joins up with a blogger (Matt Davis) to investigate whether rabid fans of the fictional show "CULT" are recreating the show's crimes in real life. Alona Tal and Robert Knepper of Fox's "Prison Break" also star. 
Meanwhile, NBC's "
Infamous
," which is set for a mid-season premiere, will be cast by New York-based Bonnie Finnegan and Steven Jacobs of Finnegan Jacobs Casting. The series, which was formerly known as "Notorious," went through some recasting but is set to start shooting in New York in September. The plot revolves around a female detective (Meagan Good) who goes undercover as the daughter of a wealthy family's maid in order to solve a murder. 
The pilot was cast by Julie Tucker and Ross Meyerson of Tucker/Meyerson Casting.