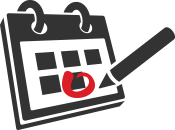 Backstage's Auditions Calendar provides a streamlined overview of upcoming auditions.
The calendar-list conveniently organizes casting calls by the date and day-of-the-week that projects' auditions are taking place, to help actors schedule their plans. Actors can now quickly discover auditions that are taking place today, or weeks in the future. And new options let actors run personalized searches with results customized to fit their interests and availability.
The new Auditions Calendar system is located at Backstage.com/Auditions and features a variety improvements, providing the most powerful audition-listing system ever available:
Super fast: Upcoming auditions appear immediately. And you can customize your search with almost instantaneous results.
Fully searchable: Quickly narrow your search by location, production type, union status, and more—to find auditions that are right for you.
Filter by audition type: Customize your search to find any combination of open call auditions, auditions by appointment, Equity Principal Auditions (EPAs), and Equity Chorus Calls (ECCs).
Filter by date and time: Customize your search to show auditions that are happening exactly within the date-range and times that you're available.
Sorted by time: The auditions are automatically ordered based on the time that the auditions start, with auditions by appointment listed first, then morning auditions, then lunchtime auditions, then evening auditions—making it easier to plan out your day.
Integrated with Backstage.com/Casting: Click on the project titles to view the full casting details and audition locations, apply online (when applicable), generate a map to the auditions, add the auditions to your own calendar, and more.
Updated 24/7: New auditions are added to the calendar throughout the day, as soon as the casting details become available.
Click here to try out the new Auditions Calendar, and leave a comment below to let us know what you think. We look forward to your feedback!