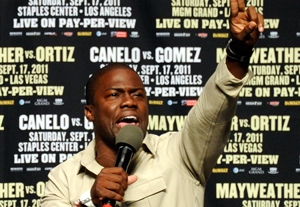 Kim Coleman will cast the new BET comedy series "House Husbands," Back Stage has confirmed.
When actor-comedian Kevin Hart prepared a
skit for the 2011 BET Awards
called "Real Husbands of Hollywood," a send-up of the ever-multiplying "Housewives"reality shows, the video went viral, online commenters were clamoring for BET to turn it into a show. The sketch featured Hart alongside actor Anthony Anderson; Bobby Brown, R&B artist and former spouse of Whitney Houston; Nick Cannon, actor and husband of Mariah Carey; rapper-producer Jermaine Dupri; and rapper Nelly. So far Hart is the only confirmed cast member for the series. Shooting is scheduled to begin in August, but no location has been set.
Coleman's recent credits include films "Madea's Witness Protection," "The Marriage Counselor," and "We the Peeples," all of which are awaiting release.