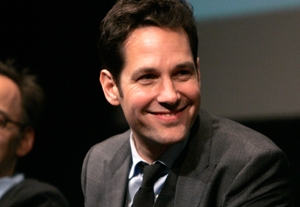 David Wain is one of those guys who, were the world a fair place, would be way more famous and successful than he is. Don't misunderstand: He is successful, and marginally famous (most people would recognize his face even if they didn't know his name), but considering his body of work, he should need bodyguards to fight off the legions of groupies and young comedy writers clamoring for his favor. But the world being what it is, the writer-director of "Wet Hot American Summer," "The Ten," "Role Models," and Adult Swim's "Childrens Hospital" is less famous than most of Jeff Dunham's puppets.
One dude I'm pretty sure would agree with my assessment of Wain is Paul Rudd, who has had a role in each Wain-helmed film. (For the purposes of this column I'm pretending "Wanderlust" never happened, but Rudd was in that too.) And that streak looks to continue, as Rudd is set to play the male lead opposite Amy Poehler in Wain's new comedy "They Came Together" (Get it?! Came? Togeth -- forget it. Wain is obviously too hilarious for you), a parody of the traditional rom-com format. Rudd stars as a soulless corporate type whose company is trying to get Poehler's shop shut down, presumably so they can build a high-end condo or ski resort or kitten-smashing factory -- whatever it is evil corporations are building atop the graves of local mom-and-pops these days. But then Rudd and Poehler fall for each other, and, well, this better be better than "Wanderlust." Beth Bowling and Kim Miscia are casting rom-com clichés ahead of a July start in New York.
Speaking of Rudd (and Poehler), he just finished an arc on Season 4 of NBC's "Parks and Recreation," playing Bobby Newport, the opponent of Leslie Knope (Poehler) in the race for Pawnee City Council. Well, Nick Offerman, who plays anti-government government employee Ron Swanson, has signed on for a role in another interesting-sounding comedy project. (Yes, that was my segue. I'm no David Wain.) The film, called "Toy's House," is about three teenage boys who, unsatisfied with their family lives, strike out into the wilderness (really, the forested area directly adjacent to their suburb) to build a house and attempt to live off the land.
Unsurprisingly, they are not very successful. Offerman will likely play the father of one of the boys, as I don't think anyone would believe that a teenager could grow such a full, lustrous mustache. This one is scheduled to go before cameras in Cleveland next month. Jeanne McCarthy and Nicole Abellera are casting. Always nice when people in Cleveland have something to look forward to, like a real-life Hollywood movie shooting in their very own backyard!