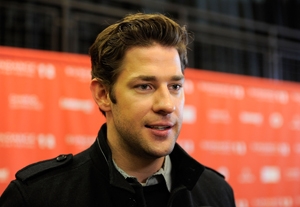 It must be great to get to a point in Hollywood where you can just get whatever you want made. I have no idea what John Krasinski is like as a person, but I like to imagine he's a pretty cool, normal dude, like his character on "The Office," Jim Halpert. He has good taste in books, I know, since he liked David Foster Wallace's short story collection "
Brief Interviews With Hideous Men
" enough to adapt it into a movie. He's friends with all the dudes from "Ocean's Eleven," it seems, and everybody knows those dudes are cool! But in reality, he's probably a weirdo narcissist like most actors. (I said most. That excludes you, dear Reader.)
Even so, if you're John Krasinski, stuff like this happens: You're hanging out with author and
pirate-themed-store
owner Dave Eggers, and you're like, "Dude, I have this idea for a screenplay. Here's some money; can you write it up?" Eggers says, "Sure." Then you bring the draft to your good friend Matt Damon, who reads it and tells you he wants to direct it. But Damon winds up having a scheduling conflict and can't direct (he'll still star, though). So he calls up Gus Van Sant, and Gus says, "Sure, Matt, I'll direct this." Fast-forward past a few perfunctory meetings to get financing, and here we are, with the film -- now titled "The Promised Land" -- set to go into production later in April in Pittsburgh. The plot is low on specifics right now, but it centers on two salesmen who travel to a small town, where the locals cause them to re-examine their priorities, lives, what have you. Francine Maisler (the Gus Van Sant of casting) will be charged with ensuring this thing wins the SAG Award for best ensemble.
And then you have Adam Sandler, who has been able to get movie after movie financed by Columbia because, well, I was going to make a snarky comment, but let's face it, even "Jack & Jill" made tons of money. Hence "Grown Ups 2." As far as movies deserving of a sequel go, I'd place "Grown Ups" somewhere between "Heaven's Gate" and "Kazaam," but Sandler is a powerful man. The plot details are scarce, but do you really need any? It's basically the entire cast of "SNL" 's mid-'90s heyday making fat jokes about Kevin James. Boom! Sandler gets an $80 million budget, and Roger Mussenden is casting ahead of a May start.
To be fair to Sandler, though, I'm always careful to not dismiss one of his movies out of hand based solely on popular reaction. Everyone remembers the way critics received "Billy Madison," now considered by many to be a comedy classic. I made the mistake of listening to critics about "Little Nicky," which turned out to be, much like
Popeyes chicken
, "fucking awesome." So who knows? "Grown Ups 2" might be a sleeper. A SAG ensemble award might be a long shot, though.