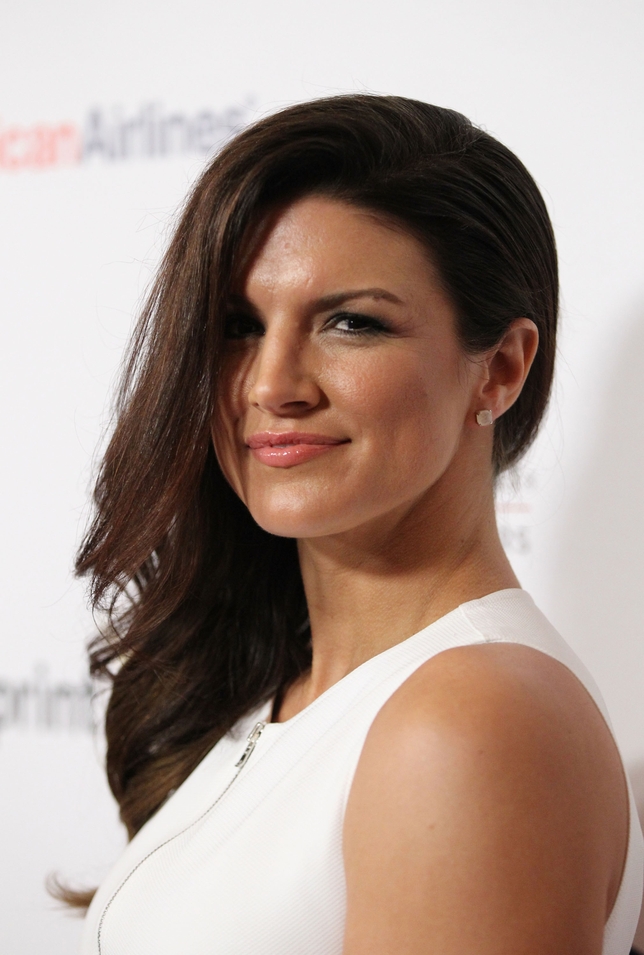 In the past, I've used this space to lament the dearth of action stars who are redheaded or who wear glasses. (Wearing them while going undercover as a nerdy scientist or some such doesn't count.) As a four-eyed ginger myself, this is an issue close to my heart. But I would be remiss if I didn't acknowledge that there is a group equally, if not more underrepresented, among the ranks of action stars: ladies.
Well, there is Kate Beckinsale in the "Underworld" films, and Milla Jovovich in the "Resident Evil" series (and "The Fifth Element"). Angelina Jolie tried her best in "Tomb Raider," I guess. But 1) those women were all pretty obviously taught to fight during preproduction, and 2) their "opponents" were mostly guys wearing blue unitards on a soundstage.
Both 1) and 2) are not the case with Gina Carano. If you caught her in Steven Soderbergh's "Haywire," you know what I'm talking about. If not, she's a former Muay Thai and MMA fighter — and — American Gladiator. Watching her fight scenes, you don't get the sense that her non-werewolf, non-zombie antagonists are cutting her any slack. In her next film, "In the Blood," set to get under way in Puerto Rico in November, she plays a woman whose husband is kidnapped while the couple are on vacay in the Caribbean. So it's a classic exact-revenge action thriller in the vein of "Commando" or "Taken," plus it's set in a tropical clime so she'll probably be dispensing with a number of henchmen while wearing a bikini. Oh, and Danny Trejo is co-starring as a bad guy. Sounds like a classic in the making. JC Cantu of Rising Phoenix is handling the casting.
Speaking of women that kick ass, you probably remember Rebel Wilson as Kristen Wiig's endearingly insane blonde roommate from "Bridesmaids." If you follow the happenings of pilot season — which, I assume yes — you might also remember that she starred in a comedy pilot for CBS called "Super Fun Night," which was about three female friends who make a weekly appointment to have a super-fun time out on the town. Aside from Roseanne Barr's attempted comeback vehicle "Downwardly Mobile," this might have been the most disappointing pass of the spring for me. Disappointing, but not surprising, considering I find your average CBS sitcom about as funny as a tornado destroying a children's hospital. But so anyway, you can imagine my delight when I learned that ABC — home of my favorite new comedy from last year, "Don't Trust the B---- in Apt 23" — has decided to reboot it. Huzzah! The two leads not named Rebel will be recast, and the format is moving to single camera. Hopefully this'll work out for the best, both for Rebel, who'll get the show she deserves, and for me, who will be able to watch said show without being subjected to promos for "The Big Bang Theory." Tim Payne and Lisa Ystrom are casting ahead of a November start date.