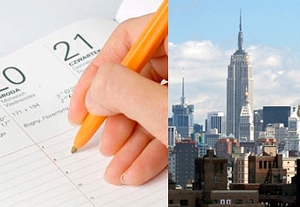 The following
"Auditions at a Glance" calendar
conveniently organizes projects by the date and day-of-the-week that the projects' auditions are taking place, to help you schedule your plans.
Click on any of the following links to see the casting and job notices related to the dates and project titles highlighted below.
Thu. June 21
• 'Don't Go Gentle'
• 'Grace', B'way
• 'The Killing of Sister George'
• 'The Performers', B'way
Fri. June 22
• 'The Piano Lesson'
• 'Dream Babies'
Sat. June 23
• 'Dream Babies'
Sun. June 24
• 'Children of Hercules'...
• BBT/The School of Russian...
Mon. June 25
• 'Alicegraceanon'
• 'Harper Regan'
• 'Dream Babies'
Tue. June 26
• 'A Summer Day'
• 'Love Story', PA
• Chamber Theatre Productions...
Wed. June 27
• 'Spy: The Exhibit...
• 'The Last Five Years'
Thu. June 28
• 'The Good Mother'
• 'Veils'
• 'Dirty Rotten Scoundrels...
• 'Rock of Ages', Nat'l Tour
Fri. June 29
• 'Noah' Open Call
• 'The Wolf of Wall Street'...
• NJ, Two River Theater
• Portland Center Stage Season...
• 'The Addams Family', Tour

Related links:
Important audition search tips
The newest 200 notices on Back Stage

New York Tristate notices, sorted by Audition Date, with today's auditions listed first
California notices, sorted by Audition Date, with today's auditions listed first
All notices (across the U.S. and worldwide, including NY & CA), sorted by Audition Date, with today's auditions listed first