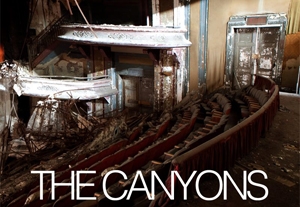 Casting continues for "The Canyons," the upcoming feature film written by Bret Easton Ellis ("American Psycho," "Less Than Zero") and directed by Paul Schrader (director of "American Gigolo" and "Auto Focus," writer of "Raging Bull" and "Taxi Driver").

"The Canyons" is a contemporary L.A. noir about the dangers of sexual obsession and ambition—both personally and professionally—among a group of young people in their 20s, and how one chance meeting connected to the past unravels all of their lives, resulting in deceit, paranoia, cruel mind games, and ultimately violence.

The independent film, which raised nearly $160,000 on Kickstarter and continues to receive funding through other donations, is scheduled to shoot in Los Angeles July 9-Aug. 4.

Casting began in early March, but the producers are now casting one additional role: Caitlin is a budding L.A. socialite in her 20s who is shallow, naive, and easily manipulated. She is beautiful, and she knows it. The movie promises to feature lots of graphic sex and nude scenes, but no nudity will be required for this role.

For more information and to apply, view the full casting notice online at BackStage.com. (Subscription required.) Follow the instructions to submit your video audition via Mobli, a free downloadable app for smart phones. The sides for Caitlin are also available online. The producers are accepting submissions from both union and nonunion actors for the film, which is being produced under the SAG Ultra Low Budget Film Agreement.

According to Ellis' Twitter account and the film's Facebook page, Lindsay Lohan will star as Tara opposite porn star James Deen as Christian. (Lohan's deal is reportedly still in flux, though, since the actress has expressed her concerns over the amount of sex and nudity required of her character.) Nolan Funk and Amanda Brooks have also joined the cast this week.

For more information about "The Canyons," visit the Facebook page.