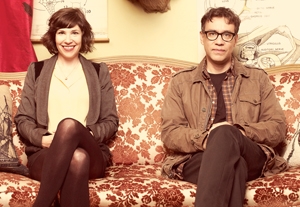 Fred Armisen and Carrie Brownstein's satirical sketch comedy series "Portlandia," which lovingly lampoons the people of Portland, Ore., and their values, is returning to IFC for a third season. Oregon-based casting director Simon Max Hill (SMH Casting) is casting extras for the new episodes, set to begin filming in July in and around Portland.

"We'll be shooting in Portland's streets, cafes, hiking trails, backyard sustainable organic farms, and basement rock venues," Hill wrote on his website. "Something you might not have noticed about these places is that they're full of people – in the show, these people are going to be you."

Interviews for potential extras will be held by appointment only at SMH Casting in Portland. For more information and to register, view the full casting notice online at BackStage.com. The casting director is seeking men and women of all ages and all types. Extras will be paid $70 per day and should be prepared to work long days and nights, both on weekends and weekdays.

Hill added, "We're looking to show Portland as it really looks, so we want only the following kinds of people to submit: everyone and their grandma!" In addition to local talent, the show has also featured guest stars such as Steve Buscemi, Kyle MacLachlan, Jeff Goldblum, Jason Sudeikis, and Gus Van Sant.

Hill has been the casting director for all three seasons of "Portlandia," and has also cast feature films including Kelly Reichardt's "Meek's Cutoff" and "Wendy and Lucy."

The third season of "Portlandia" is scheduled to premiere in January 2013 on IFC.