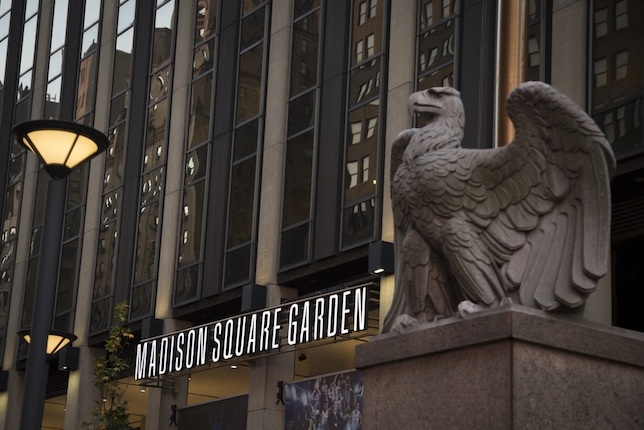 Root, root, root for the home team and join the NY Rangers Blue Crew this season! Actors, dancers, tumblers, and more are needed to hype up the crowds at Garden home games. There are also roles available in a New York love story and a play premiere!
NY RANGERS - BLUE CREW INTERACTIVE SQUAD
Let's go, Rangers! The team's Blue Crew Interactive Squad is seeking male and female talent aged 18 and older to interact with and hype up the fans at Rangers home games during the 2017-2018 season. Performers, actors, specialty dancers, tumblers, break dancers, and more are needed for the squad. There is an open casting call on Aug. 23 in NYC. Talent must be able to perform at least 75 percent of home games at Madison Square Garden if booked. Pay is $20 per hour (approximately five hours of work). Apply here!
"BLUE SKY BLUES"
"Blue Sky Blues," a New York love story that follows its two lead characters "as they navigate this increasingly harsh landscape with humor and resolve," is seeking actors with improv skills, wit, and gravitas for several roles. Female talent ages 22–40 is sought to play one of the lead roles. The actor is preferred to have musical talent. There are also many supporting and day player roles available for male and female talent 18–71, as well as three day player roles available for young CT-based male actors aged 15–22. The production shoots late summer/early fall in NYC and CT. Pay is $125 per day, plus meals and transportation. Apply here!
"GLASSHEART"
Casting is currently underway for "Glassheart," a new play premiering this fall in NYC. Male and female talent aged 20–69 are sought for several roles in the production. Singing ability is required for some roles. "Glassheart" rehearses beginning Sept. 10 in NYC and Brooklyn, with mandatory tech rehearsals Oct. 17–19. The production will run Oct. 19–29 at Access Theater. Pay is $50 per week or $350 for the whole run. Apply here!
Check out Backstage's New York City audition listings!