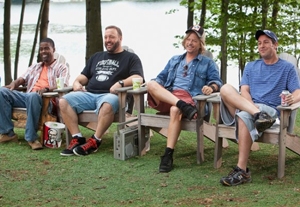 Want to feel like you're going to a high school reunion, but with less awkward small talk and more fart jokes? Sande Alessi Casting is casting extras for "Grown Ups 2," a sequel to the 2010 comedy starring Adam Sandler, Kevin James, Chris Rock, Maya Rudolph, David Spade, Rob Schneider, and Salma Hayek as a group of childhood friends who reunite years later.

The Sony Pictures Entertainment feature film begins shooting in May in Marblehead, MA. The film will be directed by frequent Sandler collaborator Dennis Dugan, who has both directed and acted in "Grown Ups," "I Now Pronounce You Chuck & Larry," "Big Daddy," "Happy Gilmore," and more.

Open calls will be held Saturday, May 12 and Sunday, May 13 in Dorchester, MA. The casting directors are seeking male and female extras of all types and all ages, including adults and children. For more information and audition details, view the full casting notice on BackStage.com. (Subscription required.)

Sande Alessi is a Los Angeles-based casting director who has cast extras for dozens of films and TV series, including "Curb Your Enthusiasm," "Entourage," "Glee," "There Will Be Blood," "Pirates of the Caribbean," "The Social Network," and more. Upcoming films include the Adam Sandler-Andy Samberg comedy "That's My Boy" and "The Lone Ranger," starring Johnny Depp and Armie Hammer.