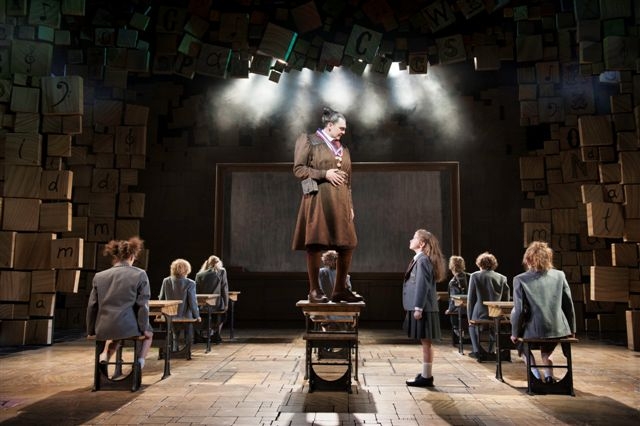 The Royal Shakespeare Company's "Matilda the Musical," based on the book by Roald Dahl and currently running in London's West End, will open on Broadway next spring. The production, which features many principal and ensemble roles for young children, will be holding an open call this month in New York for girls to play the lead role.

The producers are specifically seeking 8- to 10-year-old girls who are 4'4" or shorter to play Matilda. Four child actors will share the title role on a rotating schedule.

According to the producers, "Matilda should look like the runt of the litter. However, she is extremely bright, fearless and focused, and able to speak assertively. Matilda is a fiercely clever child; living in an abusive household, she escapes into books and her imagination." Actors auditioning for this role should be strong singers and confident speakers, with a good understanding of text and an intelligent approach to acting.

The open call will be held Sunday, Sept. 30, at Pearl Studios in New York City. Check-in begins at 10 a.m. and auditions will start at 11 a.m. Girls will be seen on a first come, first served basis. No other roles will be cast from these auditions. (For more details, view the complete casting notice online at Backstage.com.)

No experience is necessary, but if possible all performers should bring recent headshots and résumés to the open call, listing any relevant experience as well as their height, birth date, and a parent or guardian's phone number and email address. A piano accompanist will be in the room, so bring sheet music for a short song. Also prepare a short story or poem in the style of Roald Dahl. Both the song and story/poem should be memorized.

Equity principal auditions and chorus calls for child roles will also be held Sept. 8, 13, and 23 in New York City. For more information and complete audition details, view the full casting notices online at Backstage.com.

Casting directors Nora Brennan and Jim Carnahan are sharing casting duties for the title role. Brennan, who also cast kids for the Broadway and touring productions of the musical "Billy Elliot," is casting other child roles as well, while Carnahan is primarily casting adults. Casting for adult roles began in March and auditions for children have been ongoing since April.

Dahl's novel, about a young girl whose upbringing is dominated by bullies, uncaring parents, and an evil headmistress until she discovers the extraordinary power of her imagination, was published in 1988. Danny DeVito directed a 1996 film adaptation starring Mara Wilson as Matilda.

The book for "Matilda the Musical" was written by British playwright Dennis Kelly, with music and lyrics by Australian comedian and musician Tim Minchin. The musical is directed by Tony Award winner Matthew Warchus ("Ghost the Musical," "God of Carnage," "The Norman Conquests") and choreographed by Peter Darling. The West End production of "Matilda" earned seven Olivier Awards this year including Best Musical and Best Actress, which was shared by the four girls who rotate in the lead role.

"Matilda the Musical" is scheduled to open April 11, 2013, on Broadway at the Shubert Theatre. Previews begin March 4.