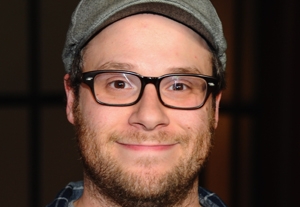 Most likely none of you have noticed, but the Los Angeles production charts are under my byline. Yes, I compile those. And in fact, Cast Away arose as sort of a natural outgrowth of that data collection: "Pete, you collect this data, and I can't get you to shut up about this or that project, so why don't you start a column?" Gladly!
Sometimes compiling the charts can be depressing, because for every one listing, there are three or four projects I track that never make the charts, either because they get stuck in development or they start casting somewhere other than L.A. I've learned to ignore any project that sounds like it's going to require everyone to speak in British accents -- period pieces, sword-and-sorcery stuff, Grey Poupon commercials -- but that's really one of the only guidelines I have to work with.
But sometimes everything pans out, and a project I've been tracking for months finally comes together.
Take the untitled Seth Rogen comedy, formerly "The Apocalypse," which I've been tracking since last September. Based on "
Jay and Seth vs. The Apocalypse
," an unreleased short film shot in 2006 shortly after "Knocked Up," the feature-length project will expand on the issues confronting Seth Rogen and Jay Baruchel, who play themselves as two unlikely survivors of an unidentified cataclysmic event that leaves them trapped in their small apartment with no apparent means of egress. It's a combination of a disaster movie and a zany mismatched-roommates sitcom! Sounds kind of amazing, right? Of course, they've rounded up a bunch of their friends to play themselves as well -- James Franco, Danny McBride, Aziz Ansari -- apparently under the assumption that comedians will be drastically overrepresented in the sliver of humanity that survives a nuclear holocaust, or whatever. Francine Maisler, who gets all the cool projects, is casting fellow denizens of the post-apocalyptic wasteland ahead of a late-April start in New Orleans.
Then you have a project like "
The Mortal Instruments: City of Bones
," which makes it all the way to the charts, with a casting director and everything, before falling apart and getting pulled. Once in active development with Screen Gems, it then became decidedly less active, and stopped developing. But now that "The Hunger Games" happened, reminding everyone that teens' taste in movies is on par with their taste in music (read terrible), studios have become even more interested in potential young-adult franchises, if that's possible. So this one is back on, with Constantin Film and Unique Features fronting the cash. The film stars Lily Collins as a seemingly ordinary teenager (natch) who finds out that she is, in actuality, not ordinary (natch), as she is descended from a line of angel-human half-breeds who hunt demons (uh ... natch?). Stephanie Corsalini Ligorner has replaced Rick Montgomery as the CD on this project, which will get under way in August in Toronto.