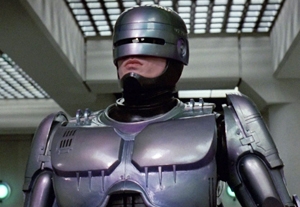 When I was 5, a friend's dad took us to see "RoboCop." We were supposed to see "Masters of the Universe," the live-action He-Man movie starring a young, feather-haired Dolph Lundgren, but that didn't come out until the following week. The only other movies playing at our tiny theater were "RoboCop" and Disney's "Snow White." My friend's dad chose poorly.
For those of you who don't watch "RoboCop" once a week like me, one of the first scenes involves Enforcement Droid Series 209 pumping about 210 rounds into a hapless junior executive from Omni Consumer Products. Even at 5, I thought this was awesome. My friends, however, did not handle it well. We had to leave the theater after 10 minutes, which is just as well, considering that that was maybe the third- or fourth-most-violent death in the movie.
Some other little boy may now have the chance to experience something similar, as "RoboCop" is getting a remake courtesy of José Padilha, the Brazilian director of "Elite Squad," a movie that more than establishes his violent-death bona fides. Looks like a good cast is lining up too: Joel Kinnaman as RoboCop, Gary Oldman, Samuel L. Jackson, Hugh Laurie, and Abbie Cornish. I couldn't be more excited for this. Hopefully, though, the remakes of Paul Verhoeven directed films will stop with this and "Total Recall." It's all downhill from there. Super casting director Francine Maisler has a tough task ahead of her trying to find a suitable replacement for the "I'd buy that for a dollar!" guy. Shooting is scheduled to start in September in Toronto.
This other movie most likely won't have anyone ram his van into a vat of toxic waste, then get his structurally weakened body disintegrated all over the windshield of a car, but at least it's not a remake! "The Spectacular Now" sounds like one of those comedies about teens with adult sensibilities and adult issues that, depending on execution, can net you either "Rushmore" (good) or "Juno" (bad). I know the latter won an Oscar for original screenplay, but my theory is that all the voters are estranged from their children and thus have no clue how teens actually talk. That or the screener came with a gram of PCP.
Anyhow, "The Spectacular Now" -- based on the novel by Tim Tharp -- centers on a popular high school senior whose whole thing is just living for the moment, bro, so naturally he's dreading graduation and making choices about his future. When he befriends a socially awkward girl, she tries to convince him that his philosophy might have some flaws. It has a good young cast: Shailene Woodley, Brie Larson, and Miles Teller. Let's hope the dialogue isn't Oscar-worthy. Angela Demo and Barbara McCarthy are casting ahead of a July start in New Orleans.