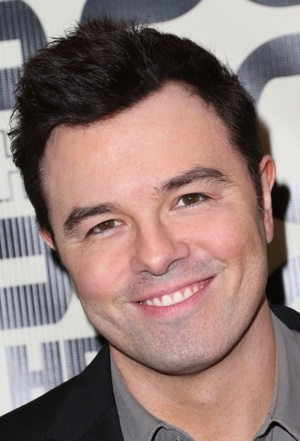 In case you haven't noticed, we're currently in the midst of one of the worst flu seasons in recent memory. We've got the H3N2 main strain, dominating once again after a decade off; some terrible 24-hour stomach thing that has hit the Backstage/THR office pretty hard, and was probably your hangover's best cover story yesterday; and a whooping cough outbreak, because people listen to Jenny McCarthy. But there is another particularly virulent strain, native to Hollywood, that has reared its head once again this year: the copy-cat bug. We have the new "Godzilla" reboot on the heels of "Pacific Rim," two competing JFK pics in "Parkland" and "The Kennedy Detail," two Hercules projects with "Hercules: The Thracian Wars" and "Hercules 3D," and now two comedy Westerns. Wait, what?
Yes, it's true. Just last week I told you about Adam Sandler's next film, comedy Western "Ridiculous 6." So here comes a competing project from Seth MacFarlane called "A Million Ways to Die in the West." It will star MacFarlane as a farmer whose girlfriend leaves him due to his cowardly nature, so he tries to win her back with the help of an outlaw's wife. Since MacFarlane is pretty much a human ATM, it's a safe bet that this movie will make a mint. However, I'm going to make the perhaps controversial call that "Ridiculous 6" will be funnier. Like I said, I just think that a parody of "The Magnificent Seven" is a good idea, and I think Sandler still has the capability to make a hilarious movie. MacFarlane, on the other hand, might be on the point of realizing that he can put out anything and make money, so he doesn't have to try. I call it Lil Wayne Syndrome. MacFarlane's equivalent of "Rebirth" will be cast by Sheila Jaffe ahead of an April start in New Mexico.
In other news, I am out of jokes, takes, anecdotes, etc. about comic book movies, so this is going to be dry, but "X-Men: Days of Future Past" is going to begin shooting in April in Montreal. The stars of "X-Men: First Class," including Jennifer Lawrence, Michael Fassbender, James McAvoy, and Ellen Page, are all contractually obligated to return for the sequel. Bryan Singer will direct from a script by who cares. Their costumes will all probably look different from "First Class," indicating in the diegetic world that super heroes just like to update their uniforms periodically, like "This needs a more metallic sheen, and I should probably airbrush some abs on here." Roger Mussenden will be the casting director.