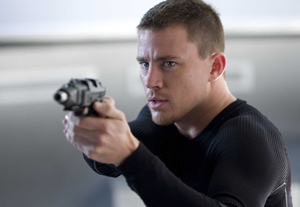 You may have read the news this week that Paramount pushed the release date of "G.I. Joe: Retaliation" nine whole months to March 2013. You might have also read that Disney pulled the plug on its kung fu Snow White adaptation, "Order of the Seven." Follow me as I weave a conspiratorial web based on these two events.
So, "Order of the Seven" got canned ostensibly because two other Snow White projects -- Relativity's "Mirror, Mirror" and Universal's "Snow White and the Huntsman" -- will have everyone Snow White-d out for at least the next decade. That or Disney is completely out of money after "John Carter" turned it into the Greece of movie studios. Probably both. The lesson: If you are going to get into a three-way race to make what is for all intents and purposes the same movie, don't be third.
2013's version of the Snow White film festival is shaping up to be movies about terrorists taking over the White House. Two movies set to go into production this summer have that exact same plot. So exact that I can use the following log line to cover both films: After a group of terrorists takes over the White House, it's up to a Secret Service agent to rescue the president and kill all the bad guys. One of the films is called "White House Down." Roland Emmerich will direct, with
Channing Tatum
in the lead role. John Papsidera of Automatic Sweat is casting ahead of an August start in Montreal. Sony has already slated it for a Nov. 1, 2013, release. The other film is called "White House Taken." Antoine Fuqua will direct, with Gerard Butler in the lead role. Cathy Sandrich Gelfond and Amanda Mackey are casting ahead of a July start in Louisiana. No release date has been set, but rest assured it will be before Nov. 1, 2013.
That brings us back to "G.I. Joe: Retaliation," the
preview for which
features a prominent shot of evil terrorist organization Cobra ... taking over the White House! Is your mind starting to blow yet? What if I were to point out that "G.I. Joe: Retaliation" also features ... Channing Tatum!?! He was the star of 2009's "G.I. Joe: The Rise of Cobra," and he returns briefly at the beginning of the new film to pass the torch to replacement leads Bruce Willis and Dwayne "The Rock" Johnson. It's so obvious! Paramount recuts "Retaliation" with Tatum footage from the first film, plays up the White House angle, and bam! It's first out of the gate with a White House terrorist takeover movie and it gets revenge on Tatum for only agreeing to a minor role. Now that's what I call "G.I. Joe" retaliation.
Paramount says the delay is to convert the film to 3-D to improve overseas box office, but if you believe that nonsense, you probably believe we actually landed on the moon.