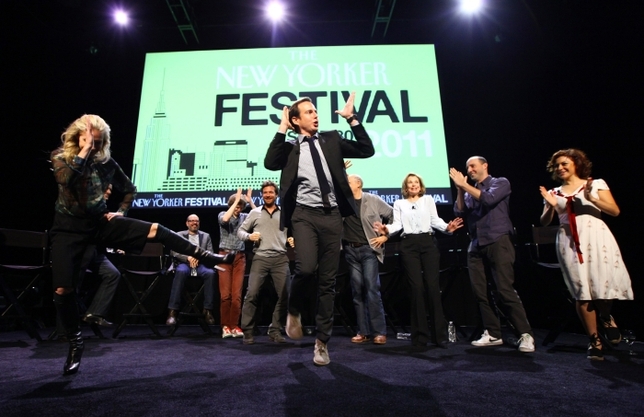 After years of rumors, expectation, and even petitions, the entire cast of the beloved but short-lived "Arrested Development" is reuniting for another season of the critically acclaimed show, which will be available on Netflix in 2013. But you might not have to wait that long to see the dysfunctional Bluth family again, because the show's producers are giving fans a chance to join them on set.

Netflix is seeking submissions for its "You're Gonna Get Some Walk-Ons" contest, in which six fans will win a trip to Los Angeles to visit the set of "Arrested Development" and film a walk-on role on the show's upcoming fourth season, currently in production.

"The Bluths have walked on so many people we thought it was only fair to let a few fans walk on them," series creator and executive producer Mitch Hurwitz said in a statement. "Come see behind-the-scenes and for God's sake, please don't touch anything!"

To show that they deserve a role on the show, contestants must create an original piece of "Arrested Development" content, which could include a video less than two minutes long, photos, original artwork, essays, or anything else that proves their love of the Bluth clan. The cast and producers of "Arrested Development" will choose the winning entries based on creativity, distinctiveness, and relevance to the show.

Finalists will be notified by Oct. 22 and winners will be announced by Oct. 31. The winners will soon thereafter travel to L.A. to meet the cast and shoot their scenes in November.

For more information and to apply, view the full casting notice online at Backstage.com. Entrants can also post their submissions directly to Twitter, Instagram, or Tumblr, with the hashtag #BluthWalkOn.

The deadline for submissions is Tuesday, Oct. 16. The contest is open to U.S. residents age 18 or older. No fees or purchases are required. Contestants cannot be a professional actor or a member of any performers' guild or union. For full contest rules and to see the latest entries, visit www.youregonnagetsomewalkons.com.

"Arrested Development" stars Jason Bateman as Michael Bluth, with Michael Cera as his son George Michael, Jeffrey Tambor as his father George Bluth Sr., Jessica Walter as his mother Lucille, Will Arnett and Tony Hale as his brothers George Oscar Bluth II and Buster Bluth, and Portia de Rossi as his sister Lindsay Funke. David Cross plays Lindsay's husband, Tobias, and Alia Shawkat is their daughter Maeby. Recurring cast members Liza Minnelli, Judy Greer, Mae Whitman, and narrator Ron Howard are also returning for the fourth season of "Arrested Development," which will be available exclusively on Netflix in Spring 2013.