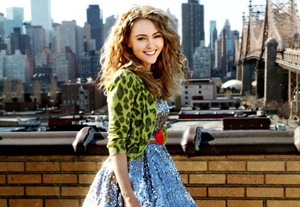 Two new network series set to be shot in New York now have casing directors, Back Stage has confirmed.
Jessica Daniels and Katja Blichfeld will cast the CW's "Sex and the City" prequel "
The Carrie Diaries
." AnnaSophia Robb plays a teenage Carrie Bradshaw who is introduced to city life in Manhattan via an internship at a law firm. Also in the cast are Austin Butler, Ellen Wong, Katie Findlay, Stefania Owen, Brendan Dooling, Chloe Bridges, Freema Agyeman, and Matt Letscher. The pilot, which also shot in New York, was cast by Jessica Kelly and Suzanne Smith at Chrystie Street Casting.
While Chrystie Street will no longer be involved in "Carrie Diaries," it will cast ABC's "
Zero Hour
." The pilot was shot in Montreal, with Ronna Kress handling casting, but production for the series has been moved to New York. The drama stars Anthony Edwards as a man who spends his time debunking conspiracies and myths as the editor of a skeptics magazine. However, when he finds a treasure map in his kidnapped wife's clock shop, he is thrust into the middle of a conspiracy that he, by necessity, finds eminently believable. The series also stars Carmen Ejogo, Scott Michael Foster, Addison Timlin, Jacinda Barrett, and Michael Nyqvist.
Both shows are slated for midseason, and no production start date has been set for either.