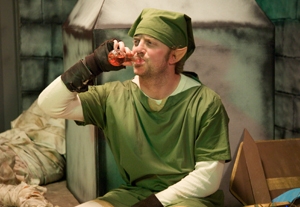 If you ask the man or woman on the street about Web series, you'll get either a blank stare or an earful. Chances are anyone who knows plenty will be under 30. For the uninitiated, Web series are like television programs on the Internet (you'll also hear the term "new media"). The episodes are usually short—generally between five and eight minutes long—and can be found on sites such as YouTube, Blip.tv, MyDamnChannel, and Crackle. Offline sources (or "old media") will sometimes call them "webisodes," but that sort of cutesy portmanteau rankles some insiders. Web series run the gamut from supplemental online-only material for popular TV series like "The Office," "Monk," and "House" to the crudely made (and probably crude-themed) stuff your cousin Dave and his college buddies shoot on weekends and post on YouTube.
Are Web series worthwhile for actors to pursue? And if so, how do they go about getting cast? Back Stage recently discussed the market with a number of series creators and actors.
Lucky Strike
Web series entered the public consciousness in the late 2000s, most notably during the Writers Guild of America strike of 2007-08, when a major point of contention was how writers would be paid for their contributions to new-media programming. Meanwhile, striking writers and strike-impacted actors began working on their own independent Web projects to keep the creative juices flowing. "People were thinking it was the wave of the future at the time," says L.A. casting director Robin Lippin. "I think the timing was good."
Lippin was involved in one of those early series, Rosario Dawson's sci-fi show "Gemini Division," which went into production in early 2008. Because Dawson appeared in nearly every scene, actors were eager to work on the show, even though Web series were then largely an unknown quantity. Except for one role—a teenage girl—actors were not called to audition for the show, says Lippin. They were offered parts.
Susan Miller and Tina Cesa Ward are the creators and producers of another title that got under way at the time of the strike: the lesbian-oriented high school drama "Anyone but Me," shot in New York and vicinity. Miller and Ward auditioned actors but did not rely on the services of a casting director.
A playwright and writer for broadcast television ("thirtysomething," "L.A. Law"), Miller was determined "to put up something polished and well-produced," she says. She conferred with her "thirtysomething" colleague Marshall Herskovitz, whose own Web series, "quarterlife," had gained notable success at the time. Eventually she and Ward, who co-writes and directs "Anyone but Me," obtained private funding for production of the first two seasons. This allowed them to pay cast and crew a daily rate, which was raised somewhat for Season 2. In addition to this basic payment, they provide meals and pay transportation costs for the actors. "We do well by them—as best we can," Miller says.
The Screen Actors Guild and the American Federation of Television and Radio Artists have new-media contracts that allow producers of lower-budget Web series flexibility in hiring union actors. Some Web-based shows use a deferred-payment plan. But, as Miller notes, many series pay no money at all. For now, anyway, no actor goes into Web series expecting to get rich quick.
Stream-Lining
Cast as Vivian, the protagonist of "Anyone but Me," was Rachael Hip-Flores, who learned about the audition through a friend at her day job at Barnes & Noble. Hip-Flores knew she could pass as a high school student. "Everyone in the store was always getting on me about how I kind of looked like I'm 12," she says. Her friend mentioned that the audition was for a lesbian-themed show and that she might have to kiss a girl. "I said, 'Okay, that's fine. I don't have a problem with that.' "
During the initial shooting, Hip-Flores was unsure about how polished the series would look, though the fact that they weren't using outmoded camcorders gave her optimism. She was delighted when she saw the sophisticated technical quality of the finished product.
As for the work, Hip-Flores finds it invigorating. "I love the freedom to tell these unconventional, nonmainstream stories that are nonetheless very truthful and moving" in a way that's lacking in conventional media, she says. She has been able to fit "Anyone but Me" into the rest of her working life, as the producers provide plenty of notice about upcoming shooting days. The series has also opened doors for Hip-Flores in film and theater. (Actors on the series sign an exclusivity clause, however, preventing them from working concurrently on other Web shows.) This year, Hip-Flores won a Streamy Award (the equivalent of an Emmy) for best actress in a dramatic series.
Her co-star Barbara Pitts, who portrays Vivian's Aunt Jodie, values the opportunity to play a recurring character. "I've never had an episodic character on a TV show," she says. "I've never had the opportunity to play a character whose life is unfolding as you shoot it. We're not in the theater repeating the same experience night after night. So that's really fun."
Pitts suggests that actors thinking of auditioning for a Web series do research about who's producing it. She adds that actors should be sure their online reels look sharp and show off their talents to good effect, as Web producers often view online footage to assess a performer's suitability for a role.
What a Difference a Day Makes
Even before the Writers Guild strike, a group of scrappy artists in L.A. was developing its own Web series, using much the same approach that emerging filmmakers took with indie productions in the 1990s and early 2000s.
Many of these actors and "content creators" (another term that some insiders dislike) emerged from L.A.'s sketch comedy and improv troupes. They wore many hats, producing, writing, directing, and acting in their own series. Like their indie-film counterparts, they traded favors with one another, borrowed money from friends and family, and maxed out their credit cards to get their projects up and running. And some of them are now major players in the indie comedy Web-series world.
At the center of this buzzing hive of creativity is a queen bee: actor-producer Felicia Day. Many of the leading names in this world have some connection to Day (who earlier gained a following on TV's "Buffy the Vampire Slayer"). For instance, Sandeep Parikh co-stars with Day as the loquacious nerd Zaboo on Day's Internet-gaming-themed series "The Guild." He also features Day as an actor on his own series, "The Legend of Neil" (a parody of the Internet fantasy game "The Legend of Zelda," starring his collaborator, Tony Janning). Kim Evey, who created and headlined the Web talk-show parody "Gorgeous Tiny Chicken Machine Show," is a producer for Day on "The Guild." Evey's husband, Greg Benson, has directed "Guild" episodes. Brendan Bradley, an NYU-trained actor who has appeared opposite Day on "The Legend of Neil," produces and stars in his own show, "Squatters" (with Parikh in a supporting role), about two New Yorkers who compete to see who can exist longer in the city without paying rent.
The overlap of talent on these series suggests it's potentially difficult for actors outside the inner circle to be hired. Series creators insist that while it's challenging for newcomers to break in, it's not impossible. On "Gorgeous Tiny Chicken Machine Show," Evey relied largely on friends and friends-of-friends to fill roles, even when it came to celebrity cameos. The one exception was porn star Ron Jeremy, who was contacted via his agent. Evey says "The Guild" holds auditions for specific roles when nobody within the producers' circle of acquaintances fits the bill.
For "The Legend of Neil," Parikh customarily holds auditions only for one or two roles per season. He much prefers to collaborate with people he knows or whose work he has seen. He claims to "despise" the audition process: "It's not where you're going to get the best of someone." The "headshot-mailing thing," says Parikh, is a needle-in-a-haystack way of launching yourself into Web-series acting. More promising, he says, is "getting involved in a circle of folks that are creating cool things that you like." When people ask what they can do, short of "knowing Felicia Day," to break into comic Web series, he replies, "You've got to find your own Felicia Day."
Bradley notes that "Squatters" has a relatively large number of roles, and he is always on the lookout for fresh faces. Still, time and money limitations mean that traditional casting sessions aren't always feasible. So sometimes he relies on recommendations instead. "A lot of people have written us and said, 'I know you're not casting now, but if you're ever looking for new talent, this is my information,' " Bradley says. "And I've stored it away in a folder for a rainy day—or for Season 2. If I need some part filled that I can't find, I'll go back to that folder."
Taming the Frontier?
One of the major vagaries of Web series is, of course, the availability of money. With creators scrambling to finance their next few episodes, it's no wonder they wind up casting one another. One solution to the perpetual funding problem is the "branded" Web series, in which a company bankrolls a show as part of its marketing budget. The strategy harkens back to the pioneering days of broadcast TV, when Dinah Shore would sing the praises of Chevrolet or a quartet of singing Texaco attendants would introduce Milton Berle.
Wilson Cleveland is a New York–based actor-producer who stars in his own comic Web series, "The Temp Life," which he created in 2006. Cleveland gained experience as an actor early in life, but his primary career has been in public relations. In 2001, he went to work for the marketing and P.R. firm CJP Communications, for which he later began a digital division, CJP Digital Media. There he created "The Temp Life."
The series was designed, says Cleveland, as an "alternate P.R. vehicle" for Spherion, a temporary-staffing company that was having a problem attracting younger, Web-savvy temp candidates. Cleveland plays Nick "Trouble" Chiapetta, the self-satisfied CEO of a shabby temp service called Commodities Staffing. The idea was to provide a contrast between the dysfunctional Commodities and the exemplary Spherion. Cleveland claims that "The Temp Life" was the first-ever "brand-sponsored Web series."
The show is "very lightly branded," he says. There is no heavy-duty product placement going on, so viewers can enjoy the storyline free of annoying commercial distractions.
Cleveland and CJP Digital Media have gone on to develop other branded shows, including "The Webventures of Justin and Alden" (a series for Trident gum, written by the ubiquitous Parikh and Janning). CJP also provides marketing and promotional services for "Easy to Assemble," a branded series for Ikea starring Illeana Douglas.
Name performers such as Ed Begley Jr. and Cheri Oteri have taken guest roles on "Easy to Assemble," which raises the question of whether stars of traditional media will encroach further on Web series, shutting out actors who lack name recognition. It's a familiar syndrome: In recent years, celebrity performers have begun accepting guest spots on network shows, leaving less work for unknowns.
Another issue: As the Web-series industry becomes more formalized, will sponsors begin asking for additional input, perhaps even insisting on having a voice in casting? Will they similarly demand tighter control over scripts? Will the Wild West become effete?
These sorts of prospects concern Evey. "The more studios get involved and everything comes together in terms of television meeting the Internet," she says, "it feels like it's going more toward advertising and corporations. I hope that—within that—people who have good stories to tell, and who have talented actors to tell them, will still be able to rise to the top."