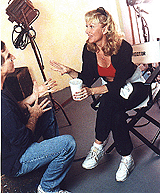 Phyllis Cesare-Taie has been in showbiz since age 6, dancing in her toe shows in a bit part in the original film version of Gypsy with Rosalind Russell. Throughout her life, her career has crossed a broad range of industry ventures, from dancing to choreography to directing and producing.
"I have had quite an extensive career from modeling to Coke and Pepsi commercials. I had my own performing company TKO (Technical Knock-Outs), which travels the nation and internationally, specializing in stage, commercials and movies."
She was affiliated with Women in Film office in Los Angeles and owns Las Vegas and owns PG Entertainment-- a set construction company in Las Vegas.
"I wanted to give back to the state of Nevada.... Vegas is so fun."
Splitting her time between Los Angeles and Sin City for the past four years, she saw a great opportunity to increase movie-making presence in Las Vegas. So she established the 44th chapter of Women in Film in Las Vegas.
"Women in Film just celebrated its 30th anniversary. We're the new puppies on the block," she said.
The non-profit organization's mission is simple: to help get jobs for women and men in the film industry in Las Vegas.
With her producing experience and ability to make things happen, Cesare-Taie works to create national projects that will give people intense training and a leg up among industry competition.
"We've made the largest impact of the women in film," she said. "I like doing things big and I have big plans."
January
On Monday, January 19 the organization will hold "Pitch Night," from 4 p.m. to 8 p.m. at the Tuscany Hotel and Casino in the Florentine Room. Nadine Hamdan, owner of All about Me Entertainment, is a co-sponsor and host of the event.
Cesare-Taie purposely coordinated this event to coincide with the National Association of Television Programming Executives (NATPE) annual convention in Las Vegas. About 10 people from the NATPE convention will donate their time and attend this event. (NATPE gave them permission and they will even be distributing flyers at the convention.)
Pitch Night will give individuals the chance to pitch their film project and/or ideas to a panel of professionals and industry executives who develop film and television projects for the Studios.
"I did my research," Cesare-Taie said. "Normal pitch nights involve a person pitching their idea to a panel of seven people at one time. We're setting up ten tables, each with its own panelist. Everyone should be able to pitch tables at least three times that night. They will sit there and critique the pitch, so it's a training exercise as well."
Cesare-Taie recommends that pitchers bring at least a short, typed paragraph describing their idea.
Those interested in attending can sign up online (http://www.wiflasvegas.org/WIF-Pitch%20Night.htm). The cost is $ 80 for students and Women in Film members and $125 for all others, which Phyllis points out, is much cheaper than attending NATPE at a cost between $560 and $850. One confirmed Pitch Night panelist is Johnny McMahon, who finds scripts for Paramount pictures and Mandalay entertainment. He will listen to people with feature film ideas. (More info on confirmed panelists is available at the above site.)
"I would like for this event to be annual but I don't know if we will be able to do it yearly yet."
February
Project c2c stands for concept to completion. Cesare-Taie likens it to Project Greenlight, the national screenwriting and directing competition conducted by Live Planet and the subject of the HBO documentary. Women in Film Las Vegas is doing something similar, conducting a national screenwriting competition. The winner will have his or her script made into a movie, and it will be a SAG signatory project, Cesare-Taie said.
The low-budget feature will be filmed by industry professionals, but it will also be used as an on-the-job-training program for filmmaking novices.
"Over 1000 training positions will be available, including internships and scholarships," she said.
The screenplay Contest begins February 1 and ends at midnight on April 30.
"I went to the WGA (writers' guild) and with their permission; we're going to be using WGA writers in a training type session. Jim Mathers ("Leave it to Beaver" star Jerry Mathers' brother) is signed on as the DP (director of photography) and will take five aspiring DPs under his wing."
The competition and filmmaking is open to community. Penny Patrick, the script supervisor, will work with interns, as will Denise Henderson, who will do the accounting.
Rules and regulations on will be available of the Web site www.wiflasvegas.org on Jan 21. Registration begins Feb. 1. Each screenplay that's submitted will be read by at least three of the 460 certified studio readers who have volunteered their time and expertise to read for project c2c.
"But what we're doing that nobody else does. All of our entries will receive a 3 to 5 page breakdown/synopsis/ critique of the submitted script, created by the studio experts who read them."
March
A fourth person will read some of the screenplays submitted for the competition. But this fourth person will not influence whether a given screenplay makes the first cut because this reader will be someone who has recently obtained certification through the Certified Training for Readers program conducted on March 6, 2004.
Nadine Hamdan of It's All About Me Entertainment will teach the one-day, 6-hour class on script reading.
"If they get passed, they won't be part of 3-reader panel, but we will use them as a 4th reader on scripts (noted it's a first time reader) so they will be able to have it on their resume and use it in their professional portfolio," Cesare-Taie said.
April
The chapter's National Stunt Training, which ran last year and will be an annual event, teaches aspiring stunt people (women and men) very practical aspects of the trade. This includes: the Ratchet harness (a contraption that pulls a body backward when reaction to a high impact force, like the scene in "Charlie's Angels" when Drew Barrymore's character is shot and falls back through a glass wall), four types of air rams, and high falls (from up to 25 feet). This year they plan on adding saddle falls, weapons and burns.
"In the stunt world, there's no such thing as training. You just sort of go out and do it," Cesare-Taie said. "We wanted to give people a leg up."
She brought in some of the top stunt coordinators to teach. Dennis Madalone, a stunt coordinator at Paramount for 14 years, who has done stunts for everything from Star Trek to Tarantino's "Pulp Fiction," was one of the trainers last year and will be back this year, too. As will Chuck Borden, a stunt coordinator with more than 300 major motion pictures under his belt and Spice Williams, and actress with more than 20 years experience performing stunts.
Six of their students last year were able to get steady work, performing in the new "Sirens of TI" show at the Treasure Island hotel.
But Cesare-Taie didn't stop there. "Last year, we brought NBC out to film all the participants doing their stunts. That gives them a video to show prospective employers, so they can see that they know what they're doing and have had a little experience."
The stunt program is offered for people at two levels: working professionals who want to polish their existing stunt skills and acquire new ones and completely inexperienced novice who want to learn how to it.
Although the dates for this year's program haven't been announce yet, Cesare-Taie said the workshop will take place in April.
To find out more about Women in Film Las Vegas and its upcoming events, please go to http://www.wiflasvegas.org/