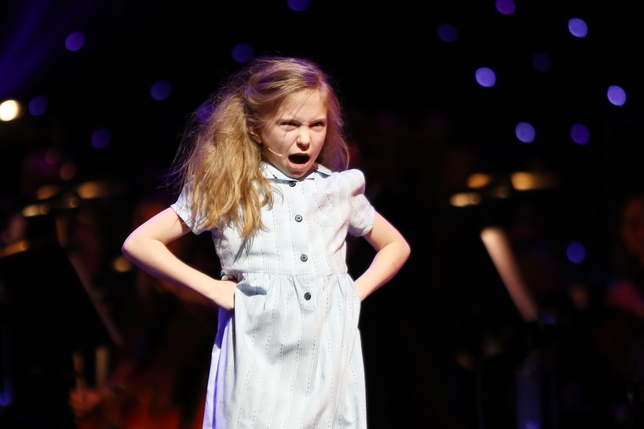 This year's new crop of child-centered musicals place particularly heavy demands on the little talents who take center stage. Their parts are tremendous, featuring numerous musical numbers, dance routines, comedic scenes, and dramatic arcs. That can be a tall order for young actors, and a great feat for the casting directors who have to choose from thousands of young hopefuls.
Among the musicals set to open this season are children's stories beloved by kids and adults alike: a revival of "Annie," which starts previews in October; a musical adaptation of "A Christmas Story," slated to run during the holiday season from November through New Year's; and Roald Dahl's "Matilda," with performances beginning in March 2013. All three draw inspiration and content from the respective works of literature and film (or in the case of "Annie", a cartoon strip) that precede them. All three embrace an adults-just-don't-understand sensibility, with a child at the center who wins our hearts.
Part of what makes the young hero or heroine in each of these musicals so endearing is that they're a little rough around the edges. Far from privileged, they are the underdogs who hope for something better.
Therefore, casting director Stephanie Klapper wasn't looking for child models when she held auditions for "A Christmas Story." Her hope was to find a young actor with the demeanor of a regular kid, "cute but not handsome, winsome but not precious"—ideally one who can belt to a high D.
Like the film-to-stage musical "Billy Elliot," multiple girls rotate in the lead role of "Matilda" in the Olivier Award-winning show's current West End incarnation. Casting directors Nora Brennan and Jim Carnahan, who are collaboratively casting the upcoming Broadway production of "Matilda," specify in their audition guidelines that "Matilda should look like the runt of the litter. She does not appear posh or contemporary, rather more damaged and weak from a working class background."
To convey that sort of character, young actors need to be very aware of the kind of energy they bring to their auditions. "We weren't looking for polished showbiz," says Patrick Goodwin, a casting director at Telsey + Company. "So many kids have training that tells them to put on a show in their audition. You don't need to do the full choreography for a 16-bar song. It's better to sing it honestly."
Goodwin, who was part of the three-person team that found 10 year-old Lilla Crawford for the title role in "Annie," says that Crawford's ability "to stand there and sing and really connect" was just as memorable as her impressive voice.
"I remember her very first audition," Goodwin says. "It was just me in the room, and she's singing the song as if I'd never heard it sung before. And I said to myself, 'This is a really interesting girl.' The subtlety she had was amazing. She made me understand every single word."
Much of what casting directors look for in kids is that indefinable "real" quality that is inherent in children, but the question of what makes a child appear "real" onstage is a difficult one. In Klapper's search for Ralphie, the boy lead in "A Christmas Story" who dreams of the perfect Christmas present, she was eager to find someone "feisty and real." But how do child actors maintain that authenticity after all of their professional acting training?
"I think it helps if they have something they love outside of performing," Klapper says, "like being around other kids, or playing soccer, or going to the movies. They become well rounded, and [the audience] can see a real person."
Casting has also expanded to the Internet in recent years, and casting directors who are tasked with finding fresh young faces—many of whom are likely not represented by an agent or manager and who have not yet had the opportunity to join a performers' union like Actors' Equity—find video auditions especially useful as a first step in the process for putting the right kids in these new productions.
Bernard Telsey, who received over 1,000 video submissions for the part of Annie, told the New York Times, "Many talented and hardworking actors, people we want to cast, are increasingly shrewd about using technology to get in front of us."
Klapper also went online in her casting search. Video auditions for the role of Ralphie can be submitted online at AChristmasStoryThe Musical.com until Sept. 12. Klapper says she thinks of a strong online audition as "a great first date," to be followed by an in-person callback.
Not only do online submissions enable those outside of New York or other casting centers to have a chance at being considered for a Broadway musical, but they also give actors the opportunity to perfect a performance before uploading the video and hitting "send."
The young actors poised to fill the coveted roles of Annie, Ralphie, and Matilda in the seasons ahead will be new faces to most theatergoers and, perhaps more importantly, new sources of inspiration to children in the audience. "It's always exciting to give someone their break, to facilitate that experience for them," Klapper says. For her, that feeling of discovery, whether an actor is a young pro or a true newcomer, is among the most rewarding aspects of casting.
Many musical theater actors, like Lea Michele or Sarah Jessica Parker (who starred as "Annie" on Broadway in 1979), found success at a young age and parlayed it into careers as adults across stage, film, and television. There's no precise formula for those who start young, but one of the surest signs of longevity, according to Broadway's casting directors, is the love of performing. It's as essential as vocal range and as enduring as stage presence.
"If these kids really love it," Klapper says, "you want to make sure they're around for a long time."
For more information about how to submit an audition video for the role of Ralphie in "A Christmas Story," view the full casting notice online at Backstage.com. And read more about how to audition for "Matilda" at Backstage.com too.